Belgrave Survival Day 10th Anniversary

Details
THURS 26 JAN

12.00 - 4.30pm

Borthwick Park, Benson Street, Belgrave

FREE FAMILY EVENT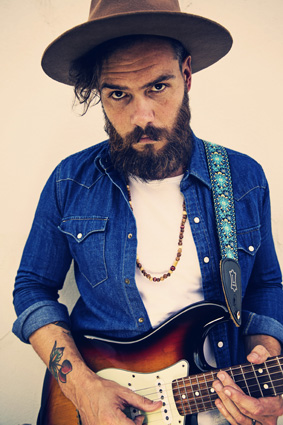 Belgrave Survival Day is an annual event on January 26th (Australia Day) and presents an opportunity for people in the area to celebrate the survival of Australian Indigenous people, their culture and heritage.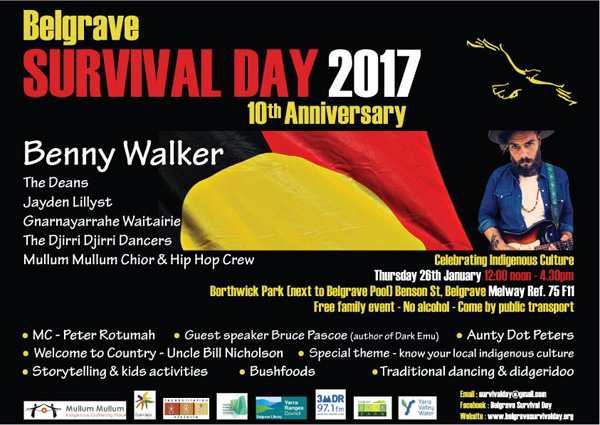 3MDR Meeghan Bell radio interview with Belgrave Survival Day's Bonnie Zuidland

Music:
1. A.B. Original - January 26
2. Dan Sultan - Dingo
3. Paul Kelly & The Messengers - From Little Things Big Things Grow
The event will be simulcasts on 3MDR 97.1FM
On Thursday the 26th January, 2017, Belgrave Survival Day will celebrate its 10th consecutive year. We will once again celebrate Indigenous culture and the survival of Australia's First Nations people through 228 years of white settlement. This year's festival will focus on the theme of 'Knowing your local history, and as always is a free family friendly event.
Come to Belgrave to celebrate the survival of Australia's First Nations people.
Hear stories of history, tradition and culture. Listen to artists. Visit stalls and engage in activities with the kids. Most importantly come engage and learn the true the history of this country and its Indigenous peoples.
Welcome to Wurundjeri country, Uncle Bill Nicholson
M.C. Uncle Peter Rotumah The Djirri Djirri dancers, Traditional Wurundjeri dance troup
Mullum Mullum Choir and Hip Hop Crew
Digerdoo meditation, Gnarnayarrhe Waitaire
Special guest speakers, Aunty Dot Peters
Musical Performances, Jayden Lillyst
And headlining act, Benny Walker
Traditional Bushfoods BBQ, Wolithga Wares
Damper making with Uncle Phil (to be confirmed, closer to day)
Kids activities and badge making
For more information visit: Belgrave Survival Day on Facebook
There will be plenty of activities to keep the kids (and adults) busy with fun music and dance, art and craft opportunities and more. As well as the children's playground.
Soak up the atmosphere on a picnic rug in front of the stage or a stroll around the market and information stalls. Catering for all food requirements, including traditional bush tucker and a variety of food trucks. This event is alcohol-free.
Due to parking limitations around the park we strongly encourage people to catch public transport, Carpool or park at Belgrave Train Station where you can get the shuttle bus provided by Belgrave Survival Day organisers or take a quick 5 minute walk to Borthwick Park.