Belgrave Survival Day
Belgrave Survival Day is an annual event on January 26th (Australia Day) and presents an opportunity for people in the area to celebrate the survival of Australian Indigenous people, their culture and heritage.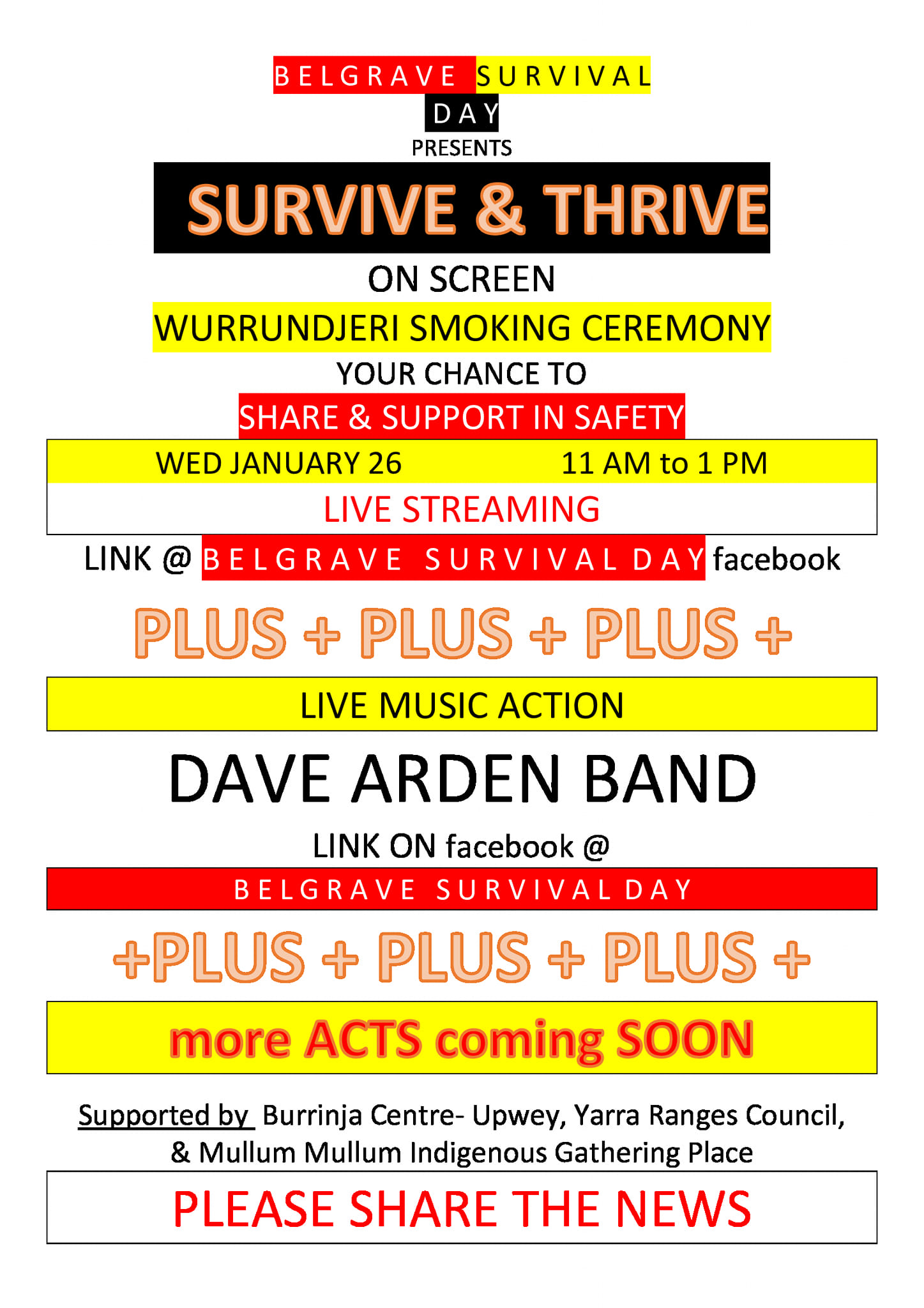 Belgrave Survival Day 15th Anniversary | Survive & Thrive
Wed 26 Jan 11am ~ 1pm, 2022 | Live Stream
A very special Survival Day event co--presented with our partners Mullum Mullum Indigenous Gathering Place.
This is a very personal and intimate event featuring special guests and performances.
Please tune in from 11am - 1pm The link will be posted on their Facebook page on Tues 25th
Our heart felt thanks to Mullum Mullum Indigenous Gathering Place for their support.
A very special thank you to Aunty Irene Norman for all of her hard work, support and wisdom. Our Elders are our foundations. 💪🏽
Always was and always will be.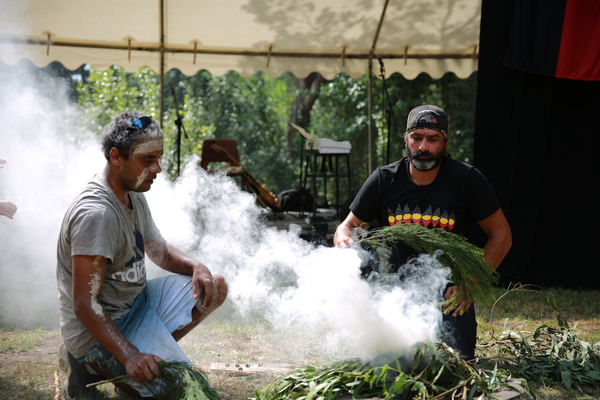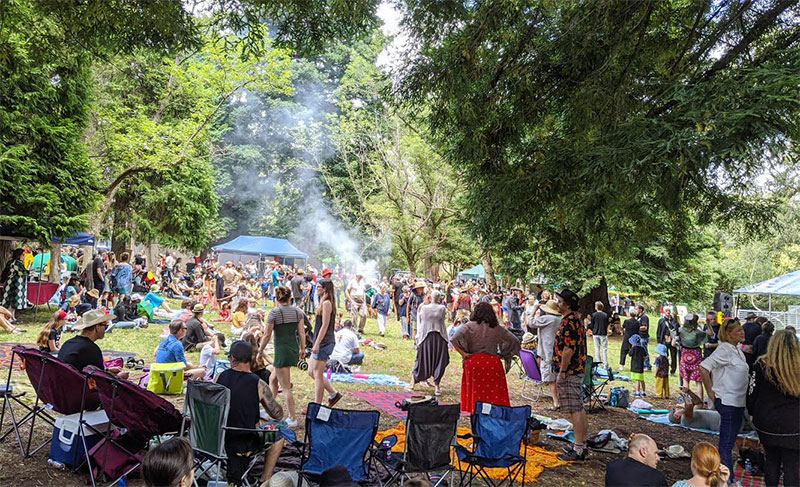 The Story
Belgrave Survival Day was first held on January 26th 2008. The event was started by a small group of local hills residents. It was held out the back of the Cameo Cinema. The only Indigenous act in the first year was a dance troupe from Healesville.
The event moved in 2011 to its current location at Borthwick Park Reserve in Belgrave.
BSD has become a prominent annual fixture of the Dandenong Ranges community, where it regularly attracts 2000-3000 attendees, featuring several entertainment acts, with stalls featuring vendors (food, drink, books, merchandise, information, community groups and Indigenous sector organizations).

COMMITTEE ROLES AND RESPONSIBILITIES
We are looking for committed, passionate people to become committee members from July 1st 2020. All roles are in a volunteer capacity. A few of the roles are filled by current committee members but flexible - if you are interested in one specific role (or would be keen to do one of a number of roles), then let us know!
Ideally committee should be comprised of at least 7 active members – each of whom take on an area of responsibility. Certain roles will be shared as required.
For full details about how to get involved click here
Belgrave Survival Day volunteer call out
Ever wanted to be apart of something great? Here's your chance.
Belgrave Survival Day is on again in 2022. Each year we try to make it better!! And each year we succeed with the assistance of some wonderful volunteers who are passionate about making this iconic event happen.

You could be one of these volunteers. You will be working alongside other people with an interest in promoting indigenous culture and celebrating the survival of one of the world's oldest living cultures.

Some of the tasks you can assist with are:
Being part of the crew on the day to bump in and bump out the equipment.
Artist liaison - mixing with and taking care of our line-up of amazing musicians and performers
Collecting donations from the friendly happy crowd who attend
Car Park attendant - - keeping people safe and orderly!
Marshalling during our new "Walk to Belgrave Survival Day",
Drive the minibus to and from the station
We only ask people to help for 1 hr on the day but most people enjoy themselves so much they like to do more. If you think you would like to be a part of the team, perhaps learn some new skills, or make some new friends, please reply to this email to be placed on the volunteers list. We will send you a more comprehensive list of tasks that you can nominate yourself for.
Why not enlist a friend and volunteer together!!

Express your interest to Volunteer Coordinator for BSD at This email address is being protected from spambots. You need JavaScript enabled to view it.
3MDR Meeghan Bell radio interview with Belgrave Survival Day's Bonnie Zuidland

Music:
1. A.B. Original - January 26
2. Dan Sultan - Dingo
3. Paul Kelly & The Messengers - From Little Things Big Things Grow
The event will be simulcast on 3MDR 97.1FM