Upcoming Events & Experiences
All upcoming events & experiences at Burrinja as well as out & about in the community.
aerie creative ecology presents
Coming Home | Wendy Jordan Pelz
18 June – 30 July | aerie gallery
An exhibition of new paintings exploring the inner landscape and creating from a place of stillness and awareness. These works investigate the idea that there is a higher order and purpose to life through synchronicity and connection to the natural world.
The creative process is embodied as a vehicle for intuition, spiritual experience and transformation.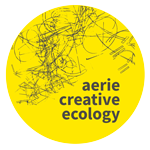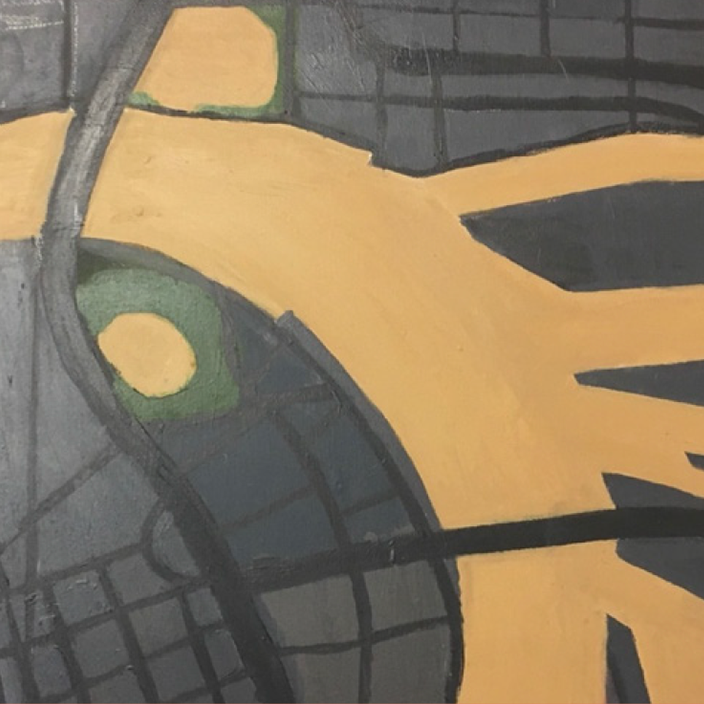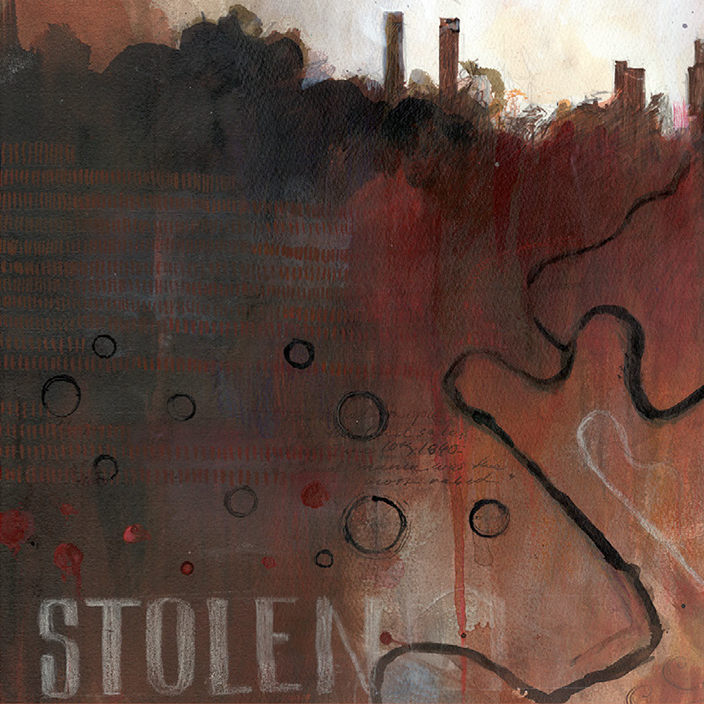 Image credit: Aunty Janet Turpie-Johnston, Marvellous Melbourne- The Liveable City, 2022 | Katie Roberts, Stolen Land, 2022
burrinja presents
YARRA / BIRRARUNG ~ Spirit in the City of Melbourne
Jun 24 - Jul 23 | Burrinja Gallery
Aunty Janet Turpie-Johnstone, a salt-water woman from Portland and Katie Roberts a non-Indigenous artist, have both been making work about the Yarra/Birrarung for many years; Aunty Janet Turpie-Johnstone through her PhD research and Katie Roberts for over the last fifteen years of her artistic practice.
This exhibition presents their two parallel artistic endeavours to listen to the land and the river. These paintings and works on paper convey the layered historical and contemporary stories of on Wurundjeri land and Melbourne/Narrm. Both artists work to acknowledge and expose the impacts THAT colonisation imposed. This cross-cultural conversation IS about place and is centred on EXPOSING the ongoing environmental trauma. This is the colonial legacy that we are all participating in. But, and above, all we acknowledge the enduring and powerful spirit of place.
Public Program:
~ Join artist Katie Roberts on Thursday 7 & 21 July @ 2pm for an arts demo: 'Art in the Garden' outside the Cafe (weather permitting)

Art in the Garden
Gather in the garden at Burrinja to meet artist Katie Roberts and see her artistic process live as she engages with nature, makes art and shares her unique approach to making art about the land. Katie uses traditional and unconventional materials and methods such as: ink, pencil, pastel, earth, sap and rainwater. You will have the opportunity to discuss and ask questions.
~ Join us for an Artist Talk with Katie Roberts on Saturday 16 July @ 2pm
Katie Roberts has been making art about the Yarra/Birrarung for over 15 years. This Floor Talk gives you the opportunity to meet the artist and hear her speak about this latest chapter in her ongoing body of work, as she guides you around her work in the exhibition Yarra / Birrarung.
burrinja presents
Birrarung dhum-djerring – Birrarung speak-together
Jun 24 - Jul 23 | Burrinja Gallery
Indigo Perry, Andrew Darling, Brooke Wandin and Ryan Tews had a dialogue through their creative artforms about Reconciliation and river ecology on Country along the upper reaches of Birrarung (Yarra River), creating a film-work with soundscape, creative-writing fragments and a fibre-artwork which is a topographical depiction of Birrarung. The artists were profoundly affected by their Birrarung dhum-djerring – Birrarung speak-together.
Public Program:
~ Join us for a NAIDOC Week talk with Brooke Wandin and Indigo Perry on Saturday 9 July @ 1pm
burrinja presents
W.A.M. (Where Artists Meet)
Thu 30 June @ 7pm | FAT GOAT
WAM is Back!
Here's your chance to get out, have some fun and talk shop with other local artists and have a cheeky drink.
These regular gatherings propose space for connecting and developing conversation between local creatives. WAM provides a fun and friendly environment to talk shop with other artists, share tips, discuss creative practice, projects and local arts and culture. With the Dandenong Ranges rich and abundant cultural landscape Burrinja's WAM events are a great opportunity to develop new creative networks, find out about potential opportunities and connect with your local arts community.
Join us on the last Thursday of every month @ 7pm at the Fat Goat (2 Morris Road, Upwey)
Live in the Lyre
Khristian Mizzi
with special guest ~ Cate Taylor
NEW DATE ~ Fri 1 July @ 7.30pm | Lyre Room
More than just a few have said that "Khristian Mizzi's songs take them to a place they'd forgotten in themselves". He writes well crafted stories which draw on hopeful and heart-warming wisdoms found in the people and places we experience.
With a 'strong and gentle' voice, and an art for weaving beauty and truth into the words of each song, Khristian Mizzi reaches the hearts of his audiences with performances that are joyful, uplifting, confronting, spiritual, comedic and vulnerable all at once.
He has been described by other musicians as having 'one of Australia's finest voices' leaving listeners feeling as though they have experienced something truly special. Poetic lyrics, meandering melodies and 'a voice which truly moves people', along with a unique picking style, Mizzi really is a complete artist and is becoming renowned for his intimate solo performances and thoughtful songs.


Special guest ~ Cate Taylor
Cate Taylor is an indie-folk/alt-country singer songwriter. Cate's music is described as rich, natural and grounded in heartfelt, spacious lyrics with a performance style that is authentic and engaging. Her songs reflect social, personal and environmental themes moving between raw, stripped-back arrangements to fuller compositions.
Tickets - $24 -29*

Single $3 ticketing fee applies per total transaction


15% off Adult, Concession and Group Pricing until midnight 24th of December, 2021
The MAC Writing Space @ Burrinja
2nd Saturday of the month @ 10am | Starting Sat 9 Jul
Mountain Ash Chapter is offering an inclusive space for the Dandenong Ranges writing community. Hosted by the Burrinja Cultural Centre, each facilitated session will be an opportunity for writers to connect, be inspired, practice their craft and gain valuable feedback.
Dates: Sat 9 Jul | Sat 13 Aug | Sat 10 Sept | Sat 8 Oct | Sat 12 Nov | Sat 10 Dec
$36 for 6 months

triple j, Select Music, Handsome Tours & Rage More Management Presents
Amy Shark | See U Somewhere Australia Tour
with special guest ~ Yorke
Fri 15 Jul @ 7.00pm | Burrinja Theatre

SOLD OUT

Amy Shark is embarking on her biggest tour EVER, hitting the BURRINJA CULTURAL CENTRE in UPWEY this year! The "I Said Hi" and "Everybody Rise" singer scored nine nominations at the 2018 ARIA Awards and four wins, including Album Of The Year, Best Female Artist and Best Pop Release.

Having just wrapped up her major-city arena tour and already sold out 20+ dates on her regional tour, there are no signs of slowing down for Amy Shark as she adds EVEN MORE dates to the The 'See U Somewhere Australia' Tour, with Amy hitting over SIXTY towns and cities across every single state and territory.

Don't miss out as Amy Shark hits THE DANDENONG RANGES this year!
Tickets - $85 + BF*

*This show is NOT elligible to use "the one free ticket" benefit included in the Friends of Burrinja Membership.
Premier Artists presents
Kate Ceberano
Sweet Inspiration Tour
with special guest ~ Taylor Sheridan
Thu 21 Jul @ 7.30pm | Burrinja Theatre
An electrifying live performer, Kate and her band will be playing all the hits plus songs from Sweet Inspiration.
Kate Ceberano is creative tour-de-force. 28 albums. 13 Platinum. 8 Gold. 3 ARIA awards. 3 Countdown awards. Fronted the seminal band I'm Talking on the epic Australian Made tour alongside INXS, Barnesy & Divinyls, starred in JC Superstar with Farnham, hosted her own hit TV show Kate & Friends, won Dancing With The Stars, first Australian woman inducted into the ASA Hall of Fame (Aust. Songwriters Association), joins the pantheon of acts who have had Top 10 album across 5 decades.
The voice of a generation.
Tickets - $63.50 inc BF*

on sale Friday 3rd June @ 10am

*This show is NOT elligible to use "the one free ticket" benefit included in the Friends of Burrinja Membership.
Burrinja & Vic Health presents
Queer New Worlds + Q & A
Friday July 22 @ 7pm | Burrinja Theatre
Sarah Ward and Bec Matthews are partners in art and life, together they run the independent arts company Fat Fruit. Their shows celebrate gender diversity, encourage free-thinking, and nourish community. Their award-winning shows include Fu*k Fabulous and more recently Fart Fabulous, The Legend Of Queen Kong and The Rainbow Tree. These shows are queer and body-positive performances created collaboratively with LGBTIQA+ artists, feminists, and culturally diverse artists from varied art forms and perspectives.
Join Sarah and Bec as they perform an intimate selection of songs from their back catalogue of work, talk about their process and participate in a relaxed Q & A over canapes and refreshments.
Hosted by the Queer Art Collective (QAC) at Burrinja and respectfully acknowledging the diverse lived experiences of LGBTQI+ and BIPOC communities, this event is specifically designed as a fun, safe and inclusive space for Queer identifying people and their families who may or may not also be Queer. Acknowledging the huge importance of intergenerational social connection, this is an event for ages 15+. And it's FREE.
Suitable for ages 15+
Tickets ~ Free


Find out more about the Queer Art Collective
Live in the Lyre
Michael Waugh
Fri 22 July @ 8.00pm | Lyre Room
Michael Waugh is a songwriter's songwriter, a compelling live performer and an extraordinary storyteller. Among his admirers are the legendary Eric Bogle, alt. country luminary Shane Nicholson and Josh Cunningham from The Waifs.
Michael's latest album The Cast , released in August 2021, won a Golden Guitar award for Heritage Song of the Year (Dirty River) and a nomination for Alt Country Album of the Year.
His 2019 album The Weir received two Golden Guitar nominations - Male Artist of the Year and Alt Country Album of the Year – as well as a nomination at the 2020 Victorian Music Awards.
Michael's insightful tributes to friends, family and parenthood are simultaneously deeply personal and nationally recognisable; we see our own brothers, parents, pubs, rivers, struggles and joys reflected in the faces of those characters who live large in Michael's songs.
"Waugh shapes and colours his songs with the kind of unique Australian qualities associated with Tim Winton and Paul Kelly." Rhythms Magazine
Tickets - $35

Single $3 ticketing fee applies per total transaction
burrinja presents
There Used To Be A Canopy Here | Cathy Ronalds
Fri 29 Jul - Sat 27 Aug | Burrinja Gallery
It has been over a year since the June 9th storm tore across our mountain through the night, destroying homes and felling large swathes of bush. Seeing such devastation to the bush I love so dearly and hearing the stories of terror and near death experiences in our community was distressing.
I felt compelled to create a series depicting the devastation we felt to honour both our collective trauma and the bush.
A year later, the removal of fallen trees continues. Those who know this mountain well are familiar with the eerie feeling: there used to be a canopy here.
Music score: Edward Willoughby
Performing artist: Gretel Taylor
Join us for the opening on Thursday 28 July @ 6.30pm ~ RSVP HERE
aerie creative ecology presents
Dreamscapes | Eamon Wyss
6 Aug – 10 Sep | aerie gallery
Dreaming stories found naturally in the landscape
'Dreamscapes' is a collection of dreaming stories found naturally in the landscape - a series of un-manipulated drone photography of ephemeral salt lakes in Victoria, purposely composed from the air to emulate abstract paintings.
The main inspiration for these works comes from aboriginal dot-paintings Eamon encountered in the Australian desert as a boy, which use both topographical and symbolic communication of the landscape to tell a story.
Join us for the exhibition opening Sat 6 Aug @ 11am ~ RSVP HERE
Eamon Wyss will be giving an Artist Talk on Sat 20 Aug @ 11am ~ RSVP HERE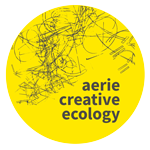 Harbour Agency Presents
The Whitlams ~
Black Stump Band
Sun 14 Aug @ 7.00pm | Burrinja Theatre
The Whitlams' alt-country offshoot sees Tim Freedman and drummer Terepai Richmond joined by an A-Team of country musicians. The band has 55 Gold Guitars and 10 ARIAs between them, with two CMAA Producers of the Year - Rod McCormack and Matt Fell - joined by Ollie Thorpe on pedal steel.
This exciting new line up reconstructs The Whitlams' staples like 'No Aphrodisiac', 'Blow Up the Pokies' and 'You Sound Like Louis Burdett', plays some new originals and pulls out a batch of surprising Americana from Neil Young to Lyle Lovett.
The Black Stump band formed in recording sessions in mid-2021, where they cut tracks that veered from campfire intimacy to rollicking country rock. They had such a good time that they decided to take the act on the road.
The latest single "The Day John Sattler Broke His Jaw" is all over Country radio. Rhythm Magazine said the track is "the best Australian song you've never heard. Until now. The Whit/ams' country version is a revelation."
Tickets - $58.50
Limited tickets at members price $53.50


*This show is NOT elligible to use "the one free ticket" benefit included in the Friends of Burrinja Membership.