Upcoming Events & Experiences
All upcoming events & experiences at Burrinja as well as out & about in the community.
Burrinja is delighted to be welcoming you back to the Centre in 2021. To do that there are some new guidelines for entry to ensure our community is kept safe while inviting you to share Burrinja's gallery spaces for reflection and inspiration, as well as a chance to explore the new spaces created during the redevelopment.
Current restrictions in place include density quotas for indoor spaces, adherence to social distancing measures and the carrying of a face mask on your person when in public.
Inline with the above recommendations we will be running 60min "Visit and Explore" sessions Wed - Sat, 10.30 AM - 2.30 PM. Each session will be limited to 20 people maximum.
If you have a large group please contact us directly via email This email address is being protected from spambots. You need JavaScript enabled to view it. or by phone (03) 9754 8723 with the date and time best suited to you and we can take a seperate booking.
Book your visit
Book in to see our current exhibition Women Painting Women III, visit the new studios, Aerie Creative Ecology and experience the newly redeveloped public spaces.
Date
April 13 @ 10am - 2.30pm
Venue
Burrinja Gallery
Book
click the book now button
&scroll down the page for
registration form.
Free 3D Printing & Digital Collage Workshop
Interested in learning about 3D modelling, or want to refine your already awesome skills? You're in the right place!
Join Jess Coldrey's no experience needed class for 15 to 25-year-olds at Burrinja Gallery, Upwey, this school holidays on April 13 @ 10am - 2.30pm.
Places are limited, so apply to secure your spot in this free workshop, and she'll be in contact via email.
Workshop details
This beginner-friendly workshop will run for 4.5 hours with a lunch break - all applicants aged 15-25 welcome!
The workshop will be run by the widely exhibited sculptor and creative technologist Jess Coldrey, who studied a Bachelor of Fine Art at Monash University.
Students will learn how to combine digital 3D shapes and objects to create their own unique 3D models, with the option to order discounted 3D prints after the workshop.
There will be social activites, a presentation about how 3D printing and digital collage can be used, a demonstration, and dedicated time for students to create their own 3D digital designs.
Term 2, 2021
Wednesdays
From April 21 - 9 weeks
n.b. There will be no
class on May 19th, 2021
Venue
Lyre Room
Cost

Play Up $144

Act Up $144
Troupe $144
Trial Class $16
Trial Class Bookings
via the Box Office
on 9754 8723



Creative Movement and Drama Classes
PLAY UP: Grades Prep – 2 or Ages 5 – 7 years
The emphasis for this age group is on creative play and improvisation. Classes are designed to stimulate the imagination of young children, through participation in various drama, music and movement activities.

ACT UP: Grade 3 – 4 or Ages 7 – 9 years - 5.15pm - 6.15pm
These classes are designed to encourage children to become confident in presenting their own ideas and to work together in a group. This is achieved through movement, poetry, songs, scripts and theatre games; providing safe, supported performance opportunities.

TROUPE: Grade 5 – 8 or Ages 10 – 13 years - Troupe 6.30pm - 7.30pm
These classes are designed to encourage children to become confident in presenting their own ideas and to work together in a group. This is achieved through movement, poetry, songs, scripts and theatre games; providing safe, supported performance opportunities.

Further information:
Classes are facilitated by Dee Whittington who has many years' experience with children and youth of all ages in the areas of creative movement, drama and music, with fabulous outcomes for the participants.
Please note that in Term 2 there will only be 9 sessions of each class, with no classes running on May 19th, 2021
ANY ENQUIRIES please CONTACT the Box Office: Tue-Fri, 10:00am-2:00pm, 9754-8723 or This email address is being protected from spambots. You need JavaScript enabled to view it.
Date
Fri 23 April 2021 8.00pm
Venue
Burrinja Theatre
Tickets
$59.90 Admission
$54.90 Concession
$54.90 Friends of Burrinja
$54.90pp Group 6+

Single $3 ticketing fee applies
per total transaction
*This show is
NOT
elligible
to use "the one free ticket"
benefit included in the
Friends of Burrinja Membership.
Jimeoin Ramble On
A stalwart of Australian comedy. Jimeoin is an all round likeable rogue in his new stand up show Ramble On! He happily imparts his clever and quirky observations on everyday suburban life in his trademark devil-may-care style.
'Recalls the familiar at fantastically silly level, boiling his audience down to a tear-filled, gibbering mess' (Scotland on Sunday).
'Hilarious... If laughter's the best medicine, Jimeoin is a course of steroids... Don't miss it!' (Edinburgh Evening News).
Recommended for ages 15+ | 110 mins including 20 min interval
Wabi - Sabi | the Beauty of Imperfection
Each year Dandenong Ranges Open Studios participating artists are asked to create a work based on a collective theme. This year's theme is WABI-SABI, the Beauty of Imperfection, a Japanese philosophy which encourages us to focus on the blessings hiding in our daily lives and celebrate the way things are rather than how we think they should be. The group exhibition is a unique opportunity to see work from all the artists in one location and select the studios that most intrigue or inspire you to visit during the Dandenong Ranges Open Studios weekend.
for more information visit openstudios.org.au/exhibitions
Date
Thu 29 Apr 7.30pm
Venue
Burrinja Theatre
Tickets
$38 Adult
$34 Concession
$32 Friends of Burrinja
$32ea Group 6+
$18 26 & Under

Single $3 ticketing fee applies
per total transaction
Melbourne International Comedy Festival Roadshow 2021
Australia's favourite comedy convoy is locked, loaded and hitting every corner of the country!
Join the Melbourne International Comedy Festival Roadshow in 2021 as it rolls across the country to home deliver the Comedy Festival vibe to every crack and crevice of Australia. From Bega to Broome, Townsville to Traralgon, we're criss-crossing the country taking in more than 80 destinations along the way. More than any year before, our comedians are champing at the bit to break out from the barriers, shake off the seclusion and roll out the laughs.
With an all killer, no filler line-up of Australian stars and talented newcomers, buckle in for a night of stand-up, sketch, satire, silliness and song to satisfy all your comedy cravings!
This year's comedians are: Daniel Connell - MC, Dilruk Jayasinha, Geraldine Hickey, Jude Perl and David Quirk
Date
Thu 6 May 7.30pm
Venue
Burrinja Theatre
Tickets
$45 Admission

Single $3 ticketing fee applies
per total transaction

*This show is
NOT
elligible
to use "the one free ticket"
benefit included in the
Friends of Burrinja Membership.
Archie Roach: Tell Me Why
A new work sharing stories and songs from Archie's new memoir and companion album.
Not many have lived as many lives – from stolen child, teenage alcoholic, seeker, lover, father, musical and lyrical genius, to social advocate and First Nations leader – but it took almost a lifetime to find who he really was. He is Archie Roach. His new memoir Tell Me Why (Simon and Schuster) is an intimate, moving and often confronting account of his resilience and strength of spirit, and also of a great love story. It's an extraordinary odyssey of love and heartbreak, family and community, survival and renewal – and the healing power of music. The companion album Tell Me Why (Bloodlines), considered Roach's 18 song 'magnum opus', re-imagines eleven songs which have defined his extraordinary career. Roach voices the joy, pain and hope he found on his path through these songs to become the legendary singer-songwriter and storyteller that he is today – beloved and respected by fans worldwide.
Holding Pattern : immersive art on your phone
Holding Pattern curates a series of newly commissioned artworks, delivered directly to audience's mobile phones.
Five contemporary artists are commissioned by Burrinja to make new digital works.
Artists include Gretel Taylor, Roderick Price, Julien Macandili, Rhys Kiekegaard, and Edwina Green.
Responding to the idea of 'the anthropause' (a considerable global slowing of modern human activities, notably travel, due to COVID-19 restrictions affecting the flow of human movement globally), the artists have created a suite of new visual, video and interactive art experiences for you.
New ideas and new works from the new world.
The project turns our hand held screens into the stages of our future.
A new work delivered to audiences each Monday throughout May.
Tickets are FREE, audiences simply need to register their phone number via the rsvp link.
"Over the past few months, many countries around the world went into lockdown to control the spread of COVID-19. Brought about by the most tragic circumstances, this period of unusually reduced human mobility — which we suggest be coined 'anthropause' — may provide important insights into human–wildlife interactions in the twenty-first century. Anecdotal observations indicate that many animal species are enjoying the newly afforded peace and quiet, while others, surprisingly, seem to have come under increased pressure." - www.nature.com
Dates
Open Studios Weekend
Sat & Sun, May 8 + 9

Book in to see the artists of Aerie Creative Ecology and Dandenong Range Open Studios Group Exhibition - Wabi Sabi in the Burrinja Gallery on May 8 + 9
2021 Dandenong Ranges Open Studios
Come and explore the secrets of the Dandenong Range's with this creative and inspiring cultural experience. The Dandenong Ranges Open Studios takes you down the fern lined lanes of the hills to discover a selection of the most intriguing studios. Explore and connect with artists, ignite your creative imagination and step into the hidden gems, curious constructions and awe inspiring spaces of the artists' creative environments.
Visit the exhibition at the Burrinja Gallery and select the studios that most intrigue or inspire you. You will have the unique opportunity to purchase artwork and hand crafted items directly from the artists, informed by new insight into their creative world.
Dandenong Ranges Open Studios is the biggest creative 'Open Door' of the region.
Visit studios between 10am and 5pm during the Open Weekend.
For more details about the Artists & the Studios
click here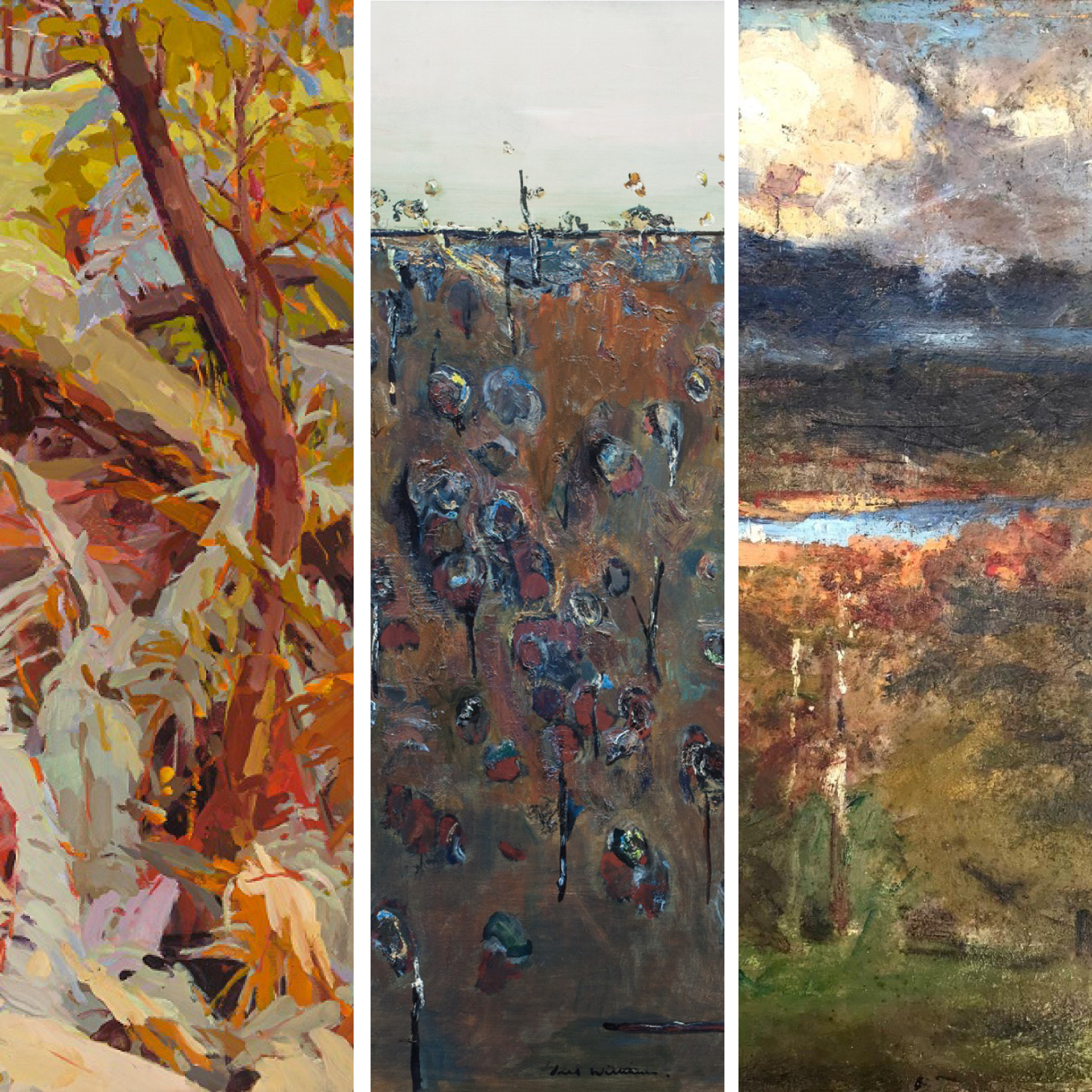 Image Credit: (left to right): Mary Tonkin, Ramble, Kalorama 2017-19 (detail) oil on linen,Fred Williams (1927 - 1982), UPWEY LANDSCAPE, oil on canvas, , Miles Evergood (1871 - 1939) c. 1935 – 1938, oil on canvas

The Ranges | 3 Perspectives
Drawing from the vivid and lush landscape of the Dandenong Ranges, a place each artist once called home, the works in this exhibition showcase three distinctly different perspectives.
Be captured by the unique majesty of the ranges, seen through the eyes of these brilliant Australian landscape painters.
Mary Tonkin: Contemporary plein air landscape artist whose detailed large scale representations reflect the forest at her family's property in Kalorama.
Fred Williams: Australia's most iconic landscape artist redefined painting in the Australian bush during his 'Upwey years' from 1963-68.
Miles Evergood: An impressionist whose 1930's Kalorama paintings are characterised by strong colours and expressive brushstrokes and use of palette knife.
Date
Fri 14 May 7.30pm
Venue
Burrinja Theatre

Tickets
$28 Adult
$24 Concession
$22 Friends of Burrinja
$22ea Group 6+
$18 26 & Under

Single $3 ticketing fee applies
per total transaction
A Cabaret Star for Hire
A recently retired showgirl discovering her new life's purpose ... become a secret agent and uncover a global plot.
After 10 years of writing, performing and touring internationally, Australia's "Cabaret Queen" is quitting cabaret.
Cabaret Star For Hire is part performance-art, part Aussie opera, part physical and musical comedy extravaganza with all-original songs and hysterical musings of an artist on the brink of superstardom, or mental breakdown, or both.
Anya Anastasia showcases her bizarre and riotous CV as she publicly seeks new employment in the grips of a global pandemic. This side-splittingly funny tale of one woman's failures lays bare the razzle-dazzle insta-glam lies of showbiz. In this brand new one woman show, Anya admits to everything she's messed up or covered up in pursuit of her dreams. From the sublime to the ridiculous and everything in between with very relatable tales from a ruthlessly honest showgirl seeking her new life's purpose. Do you need a cabaret star in your workplace?
Songs include an original feminist take on a Bond theme, a song for her proposed new Disney movie: "Existential Crisis The Musical", and a heartfelt ballad "Never give up on your dreams and other terrible pieces of advice".
Adelaide Fringe 2019 - Winner of the Best Comedy Cabaret (The Sunday Mail)
"Anya Anastasia attacks what she's leaving and what she's lived with the most intensely concentrated delivery of a decades long, well-honed comic schtick, downright lyric emotional honesty, and physical comedy. Blindingly Brilliant!" -Barefoot Review-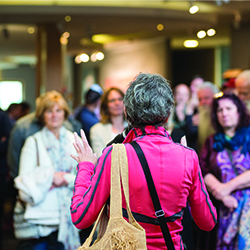 Date
Annual
Venue
Burrinja Cultural Centre
Galleries
Theatre
Shop
Cafe
Community
Tickets
$40

Give the gift of membership
Visit the Box Office or call 9754 8723
Belong...
Become a Burrinja Member

Connect with your community and support arts in the Hills with your $40, and we will give you:
One FREE theatre ticket each year to a Burrinja show *

Member ticket discounts on Burrinja shows

Free ticket postage
Updates, insights and special programs
Special event invitations
Member priority new season booking
10% off Burrinja gallery shop
By becoming a Burrinja Member you will be supporting local arts and culture as well as the many local projects that Burrinja manages, supports and enable -
building community through arts
.
* Only available for eligble shows in the Burrinja Season, excludes venue hire 'No Free Tickets' shows. To utilise the "FREE" ticket benefit please contact our box office on 03 9754 8723