burrinja & Injalak Arts presents
Bim kunwarddewardde
(Stone Country Paintings)
Injalak Arts
03 Sep - 08 Oct | Burrinja Gallery
Injalak Arts is located in the stone country of West Arnhem Land, in a landscape crossed by rocky escarpments, wetlands and monsoonal forests. Stories from the land have been told by paintings on rocks for at least 20,000 years.
This project is the most recent moment in the deep time story of Kunwinjku culture, showing that kunwarrdebim (rock art of the stone country) continues to inspire contemporary West Arnhem Land artists. The exhibition is a collaborative project of Injalak Arts and Burrinja, presenting an overview of Kunwinjku bim (painting) from the last three decades.
Artists include: Allan Nadjamerrek, Freddie Nadjamerrek, Gabriel Maralngurra, Gary Djorlom, Gavin Namarnyilk, Gershom Garlngarr, Glen Namundja, Graham Badari, Isaiah Nagurrgurrba, Joey Nganjmirra, Lawrence Nganjmirra, Maath Maralngurra, Roland Burrunali, William Djawirda Manakgu, and Timothy Nabegeyo.
Join us for the public exhibition opening with exhibition artists and Injalak Arts Centre staff. Sat 3 Sep @ 11am ~ RSVP HERE
On the day experience a Painting demonstration by Gabriel Maralngurra, and artist guided tours Timothy Nabegeyo and Gavin Namarnyilk from 11.30 am.
Supported by Australia Council for the Arts.
burrinja presents
All My Fat Country | Rod Moss
27 Aug - 08 Oct | Burrinja Gallery
From a body of more than 200 works made during the artist's four decades of life in Mparntwe/Alice Springs, four paintings have been selected. Their themes reflect his enduring friendships with the traditional owners of town and surrounding county, the Arrernte.
Recently, Moss has returned to re-describing the local environment in graphite, the medium he favoured in his first exhibition at Hawthorn City Gallery in 1978. Then it was the suburban backyard. In the present show, its the rugged hill country at his backdoor.
Rod Moss was born in Ferntree Gully and had his first exhibition at Burrinja in 2014. He is an award-winning author of several books including The Hard Light of Day and A Thousand Cuts.
Join us for the opening Friday 26 August 6.30 pm ~ RSVP HERE
Burrinja Gallery and ELTHAM bookshop warmly invite you to a very special Book Launch of "Dancing Under Heavy Manners - Love Songs From Central Australia" by Rod Moss : Sat 27 Aug from 11.00 am until 12.30 pm. Please RSVP by email ~
This email address is being protected from spambots. You need JavaScript enabled to view it.
aerie creative ecology presents
When the Forest Speaks | Liberty Finn
17 Sep - Oct 29 | aerie gallery
Liberty Finn's visual rambles in the forest reflect inner and outer journeys of exploration and knowing. The works in this exhibition shift from hope and magical light toward a more contemplative consideration of loss and regret. The forest's cycles of decay and growth echo the inner experience and are a reminder that we are not unique in this often jarring cyclic experience of life.
Join us for the opening of a new exhibition in the aerie gallery Sat 17 Sep @ 2pm~ RSVP HERE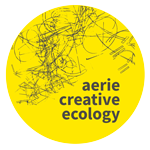 burrinja presents
Where Artists Meet (W.A.M.)
Thu 29 September @ 7.00pm | Burrinja
WAM is Back!
Here's your chance to get out, have some fun and talk shop with other local artists and have a cheeky drink.
These regular gatherings propose space for connecting and developing conversation between local creatives. WAM provides a fun and friendly environment to talk shop with other artists, share tips, discuss creative practice, projects and local arts and culture. With the Dandenong Ranges rich and abundant cultural landscape Burrinja's WAM events are a great opportunity to develop new creative networks, find out about potential opportunities and connect with your local arts community.
Join us on the last Thursday of every month @ 7pm at the Fat Goat (2 Morris Road, Upwey)
Upwey Community Group & Burrinja Presents
The Upwey Archies 2022
On display from Oct 13 to Nov 10 | Upwey Main Street
Grab your art equipment – pencils, paints, collage, mixed media – and celebrate the people of Upwey important to you!
Bringing together the creative voices and vision of our community, this project is a celebration of the people of Upwey. Inspired by the Archibald Prize and 'Not The Archies', the Upwey Archies is a community portrait project.
Cost per entry: $12, or $8 for 14yrs & under.
Entry:
Pay your registration fee, then head to Burrinja between August 10th – 20th (opening hours are 10am - 4pm | Wed - Sat), collect an art board (included in your fee).
How it works once you have your canvas board/s...
1. Create a portrait of a person that is important to you on the canvas provided.
2. Complete your Artwork Description online HERE
3. Complete the information on the back of your canvas.
4. Return your Archies entry (we will not accept wet or damp artwork) to Upwey Township Hall (opposite skate park) during these dates & times
• 4.30 – 6.00pm | 6th October
• 4.30 – 6.00pm | 7th October
• 10.30 – 12.00pm | 8th October
5. Enjoy seeing your work publicly displayed throughout Upwey between Oct 13th – Nov 10th
AWARD CEREMONY
Attend the award presentation ceremony, 7pm Friday November 11, at the Upwey Township Hall.
download entry information pdf

online art work description form

Big Anxiety Festival
Arts, Health and Care: Leading arts and mental health projects
Wed 12 Oct @ 10am | Lyre Room
A professional development session for artists and arts workers with UK based artist and arts health leader Daniel Regan.
Join UK based artist Daniel Regan in this session exploring how to navigate arts, health and care, including how we care for ourselves, and how artists as leaders can care for those that they work with. In this session Daniel will touch on how to safely create in response to crises, including focusing on self and collective care, our moral and professional responsibilities when working with others, and sharing insights from his Groundwork training delivered to organisations working in the arts and health sector.
Daniel Regan is a photographic artist that specialises in exploring complex and difficult emotional experiences, focusing on the transformational impact of arts on mental health, building on his own lived experiences. Daniel's photographic work focuses on themes of wellbeing and brokers dialogue around often taboo topics such as grief, self injury, suicide and racism. As a part of his practice Daniel shoots commissions, runs socially engaged projects and provides consultancy. Daniel regularly exhibits and speaks at events across fine art, educational and clinical institutions in the UK and worldwide. Daniel is the Founder and Executive Director of the Arts & Health Hub, a UK not-for-profit organisation that supports artists and cultural producers in the arts and health sector. Daniel is represented by Bethlem Gallery in London and lives and has a studio in south east London, UK.
This professional development opportunity is presented by Burrinja in partnership with Yarra Ranges Regional Museum and Yarra Ranges Council as part of The Big Anxiety festival.
Run time: 90 mins
Tickets - FREE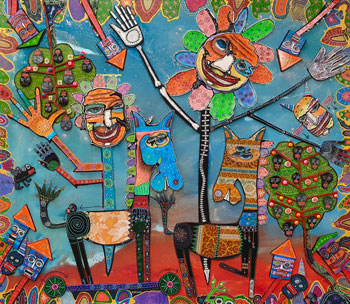 image credit: Anthony Breslin, 'A Frolic in the Garden of Scull' mixed media on canvas, 160 x 140cm, ©Anthony Breslin
burrinja presents
Mélange | Anthony Breslin
15 Oct - 19 Nov | Burrinja Gallery
In a momentous ' tour de force' Anthony Breslin presents his first major solo exhibition in over a decade. Overcoming years of crippling health challenges, Breslin returns with artistic explorations that will leave young and old visitors spellbound.
Merging together never before exhibited early surrealist works with new paintings, art installations and interactive 'art games', the exhibition playfully invites viewers to immerse themselves as they explore this extraordinary melange of colour, form, and composition.
Anthony Breslin is a Melbourne-based, award-winning artist of national and international renown. He has produced over 50 exhibitions, an art opera, and published several books.
Currently, his studio resides at Burrinja.
Join us for the exhibition opening Sat 15 Oct @ 2pm ~ RSVP HERE
Join us for Anthony Breslin's Artist Talk on his process and the works in his exhibition Melange. Sat 29 Oct @ 2pm ~ RSVP HERE