Black Mist Burnt Country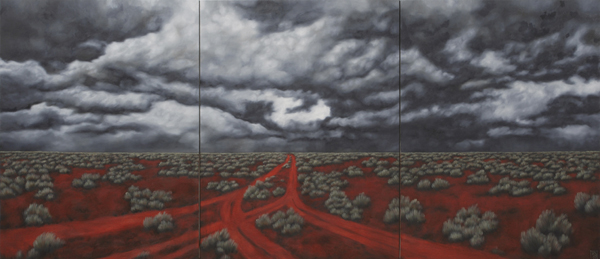 Karen Standke, Road to Maralinga II, oil on canvas, 112 x 85 cm, 2007, copyright: the artist
Black Mist Burnt Country is a exhibition project developed by Burrinja Cultural Centre which commemorates the British atomic test series in Australia through artworks by Indigenous and non-Indigenous contemporary artists across the mediums of painting, print-making, sculpture, installation, photography and new media.


The exhibition launched in September 2016, marking the 60th anniversary of the first atomic test at Maralinga on 27 September 1956. It was one of 12 atomic devices to be trialled from 1952 to 1957, at Montebello Islands off the coast of Western Australia and at Emu Junction and Maralinga in South Australia.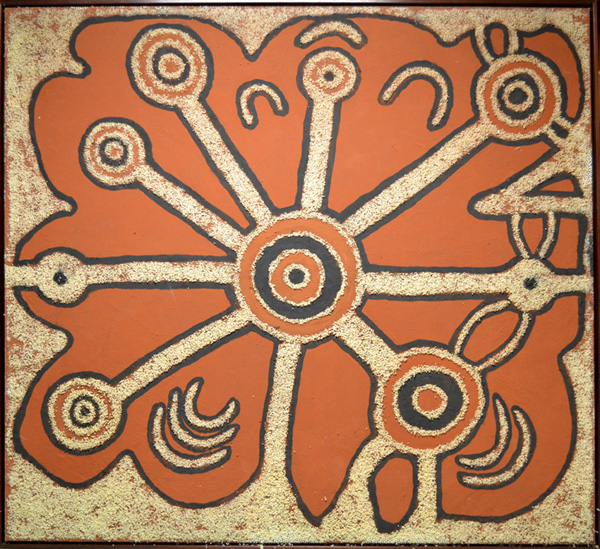 Jonathan Kumintjarra Brown Maralinga before the Atomic Test
Ochres, sand and kapok on linen
227 x 205 cm, 1994 Yarra Ranges McLeod Gift Collection B0269

Maralinga Before the Atomic Test, a large canvas and kapoc painting by Jonathan Kumintjara Brown in the Yarra Ranges McLeod Gift Collection set Burrinja curator JD Mittmann on the path to research this secret and dark part of Australian history.
Jonathan Kumintjara Brown, a member of the so-called 'Stolen Generations', had been removed from his parents at Ooldea Mission at very early age. He grew up with foster parents in Melbourne and Sydney, but it was not until when he was in his late 20s that found his parents at Yalata, South Australia, and learnt about the dislocation of his people and the destruction of the traditional lands by atomic testing.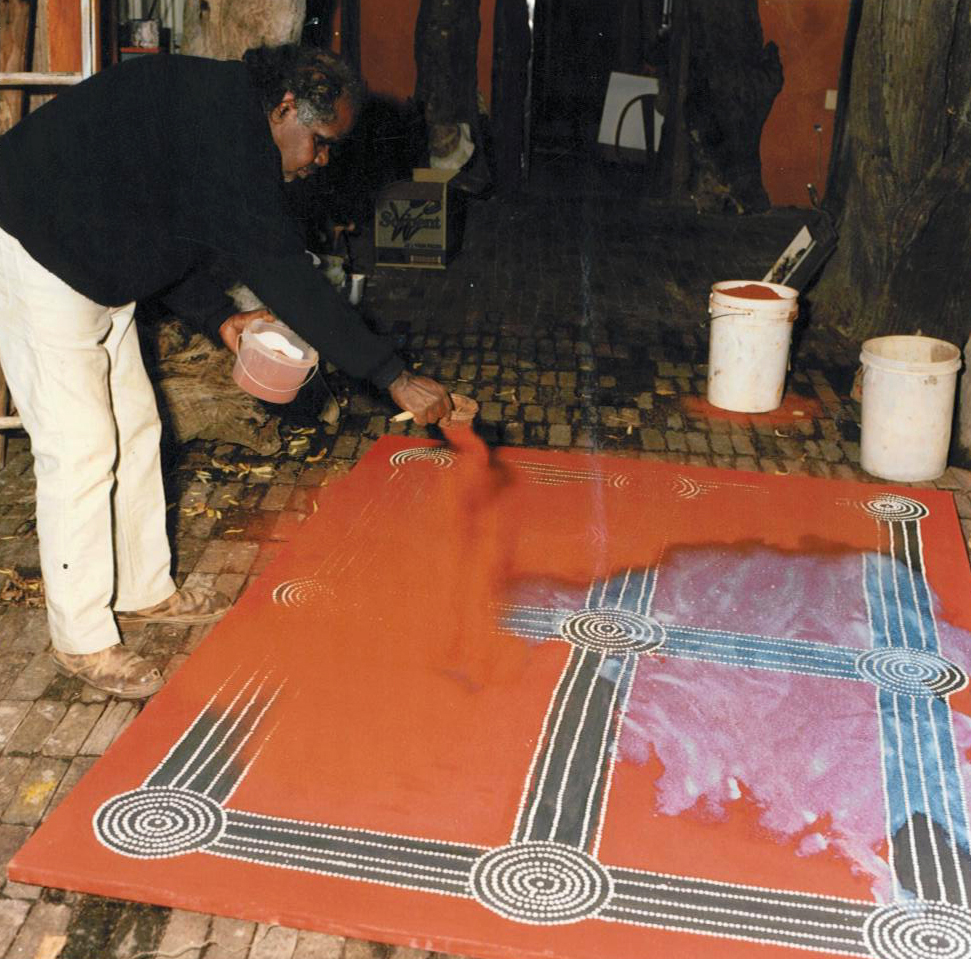 Jonathan Kumintjarra Brown
painting Maralinga Atomic Test (1992)
Courtesy of Neil McLeod
The discovery was traumatic for him, and he turned to art for relief and to tell the Maralinga story. Mentored by his friend and photographer Neil McLeod, Jonathan created a series of paintings which document different aspects of the story of the tests and their impact on land and people. Upwey artist Lin Onus, an early collaborator of Brown's, himself had created a seminal sculpture Maralinga, now on permanent display at the Art Gallery of Western Australia, and the first direct response to the tests by an Aboriginal artist in the country.


Lin's father Bill, a Yorta Yorta man, local entrepreneur and political activist, had together with Pastor Doug Nicholls lobbied against the development of the Woomera Long Range Rocket Establishment in the late 1940s and protested about the use of vast stretches of Pitjantjatjarra country for this purpose. The subsequent atomic test program resulted in further dispossessions and desecrations of country by British and Australian authorities.


From the mid-1990s, in the booming Aboriginal art movement, Indigenous artists turned to canvas and paint to tell their story. Works in the exhibition figuratively display the moments of forced removal, army trucks, mushroom clouds, sickness and death. Works by contemporary non-Indigenous expand the range of topics in a variety of mediums. Over 30 artists are included in the exhibition.

For more information visit the exhibition website.

Black Mist Burnt Country website

Black Mist Burnt Country facebook

Black Mist Burnt Country twitter

Black Mist Burnt Country instagram

Join the conversation with #BMBC60