Key Stimulus
1. Civics, Citizenship, Diversity, Democracy:
Burrinja Cultural Centre as an entity:
a. The community fight to save a building and create a community cultural centre.
In 1994, as part of the Kennett government's rationalization of local government, four regional shires were amalgamated into one: Sherbrooke, Lillydale, Upper Yarra and Healesville. From the perspective of the Commissioners who had been installed in place of elected Councillors, the former Sherbrooke Shire Offices in Upwey had become redundant, an asset for potential revenue raising.
By 1996 there was much discussion about the future of the 'old' Sherbrooke Shire Office. The Commissioners had the land rezoned without any due process and put the building and surrounding depot land on the market.
However, they didn't count on the passion of the local community.
Numerous organisations and individuals were involved in the fight to save the Sherbrooke building for the community. Those at the forefront of the campaign were the Upper Yarra and Dandenong Ranges Regional Cultural Board, the Arts Cultural Task Group, United Neighborhood Organisation of the Hills (UNOH), Save Our Sherbrooke Association (SOS), the Dandenong Ranges LETS, Save the Dandenongs League, and the Sherbrooke cluster of Community Houses. Many of these groups and their members had gained considerable skills in public protests and political activism during environmental campaigns and the successful fight against McDonalds in Belgrave, and they used their extensive community networks to mobilise considerable and persistent opposition to the sale of the Sherbrooke offices.
Importantly, local people felt that they had ownership of the building, a grass-roots sense of ownership that remains one of Burrinja's key elements of success today. Local indigenous artists and activist Lin Onus volunteered as President when UNOH was formed in September 1996. A highly acclaimed and internationally renowned artist, Lin was very passionate about saving the shire offices and creating a community arts centre, and took on what was to be his last great fight with typical gusto. He spoke at a protest meeting held at Upwey community Hall on 17th October 1996 and he died the following week, on the 24th October. His sad loss was felt deeply by all involved in the fight to establish the cultural centre.
In December 1996 the newly formed Arts Cultural Task Force submitted a proposal to Council to develop the building into a community Arts Facility including an 'arts business incubator', in order to, '…benefit the local economy, provide the prospect of sustainable local jobs in the arts as well as attracting tourist dollars to the area'.
In December 1996, a Feasibility Study for the Development of Community Leisure and Cultural Facilities in the Upwey Belgrave area found that there was a clear need for improved arts facilities in the area.
The concerted campaign by so many to save the building for an arts centre eventually had its desired effect. By March 1997, when democratically elected councillors were returned for the inaugural Shire of Yarra Ranges council, councillors Louis Delacretaz (the last Shire of Sherbrooke President) and Robyn Hale were voted in with platforms determined to save the Sherbrooke Council building from being sold. At the very first council meeting, Louis Delacretaz put up a motion that took the Glenfern Road building off the for sale list and the Shire of Yarra Ranges Council voted for half of the building to become an arts and cultural centre for use by the local community and to lease out the other half commercially.
A Business Plan for a proposed Dandenong Ranges Community Cultural Centre was presented to Council and a Special Committee of Council was established to form the 'DRCCC' as it became known. It became an independent incorporated body in mid-1998 with Louis Delacretaz as President. Joy Murphy-Wandin, Wurundjeri elder, and Acting Mayor Louis Delacretaz officially opened the DRCCC on the 22nd March 1998 at a Family Fun celebration day.
See newspaper clippings provided from the protests, and from Lin Onus' public funeral
Provocations:
• Should local Government support arts and culture when it is busy looking after 'roads, rates and rubbish'?
• Should local government be investing in 'social health and well-being' activities like arts and culture? • Does arts and culture really make a valuable contribution to our civic society and well-being?
• Is there a danger that Councils and Governments can be swayed in their decision making by noisy minorities?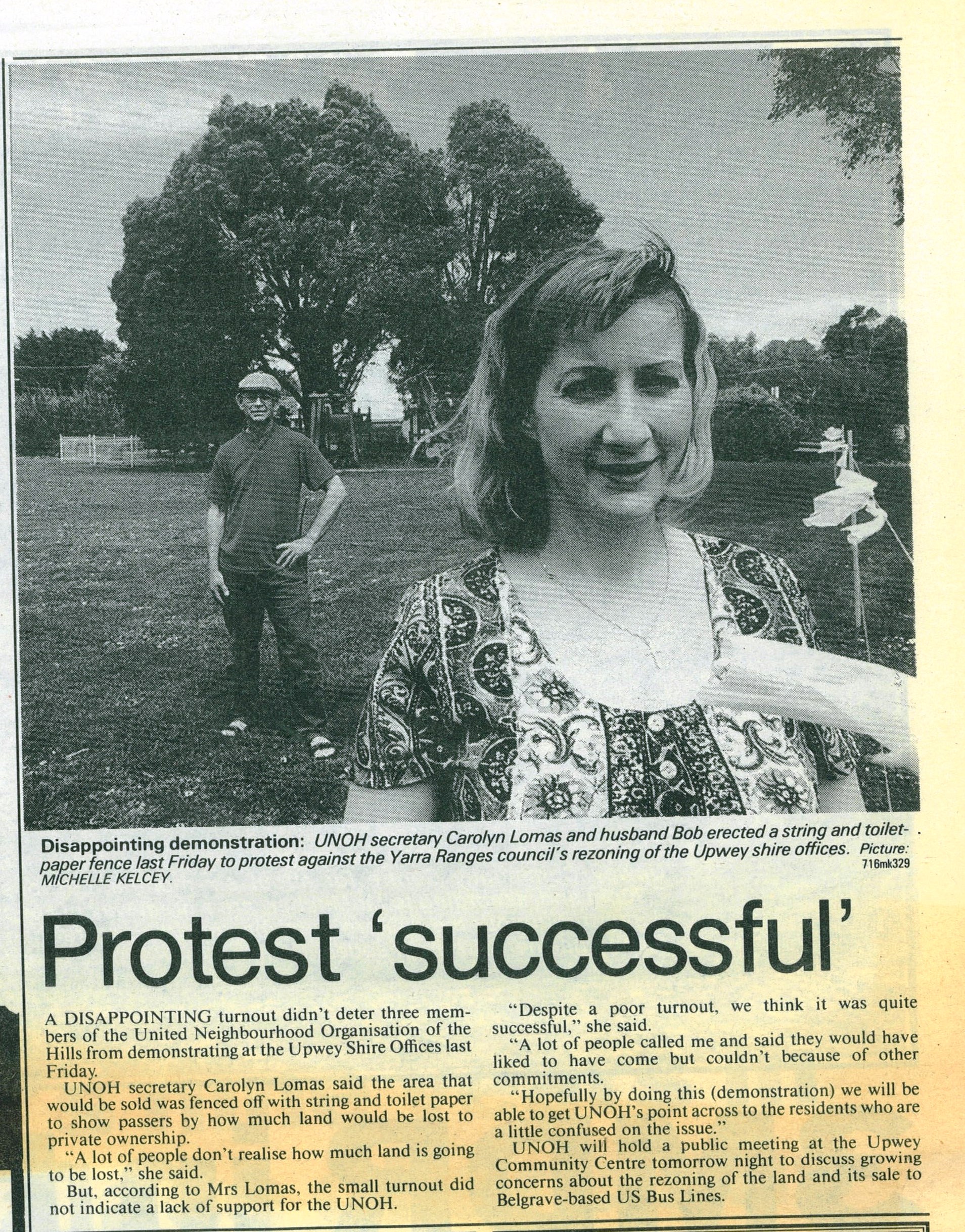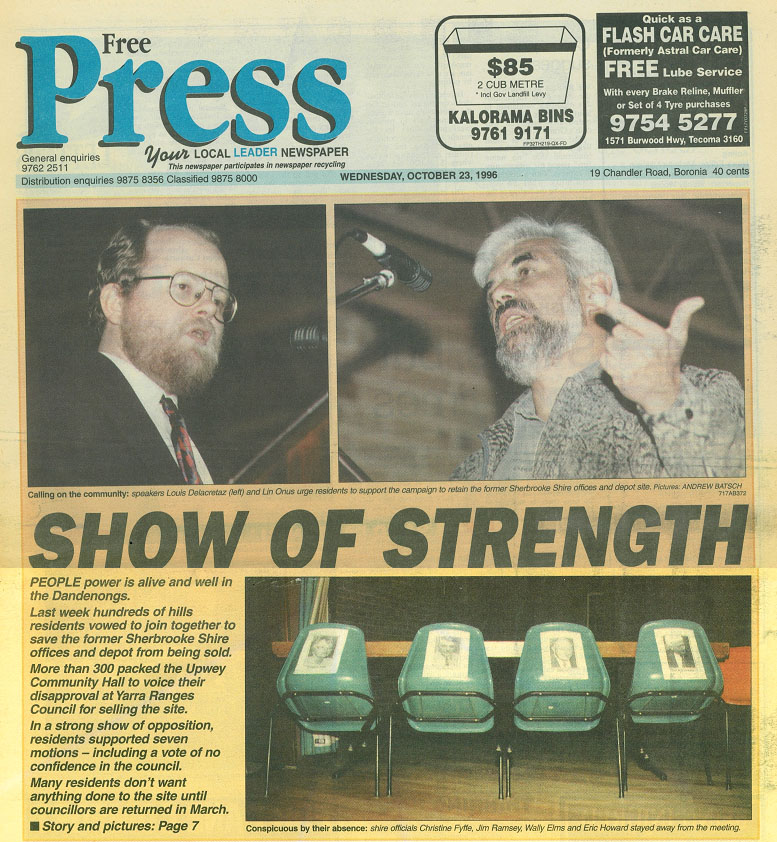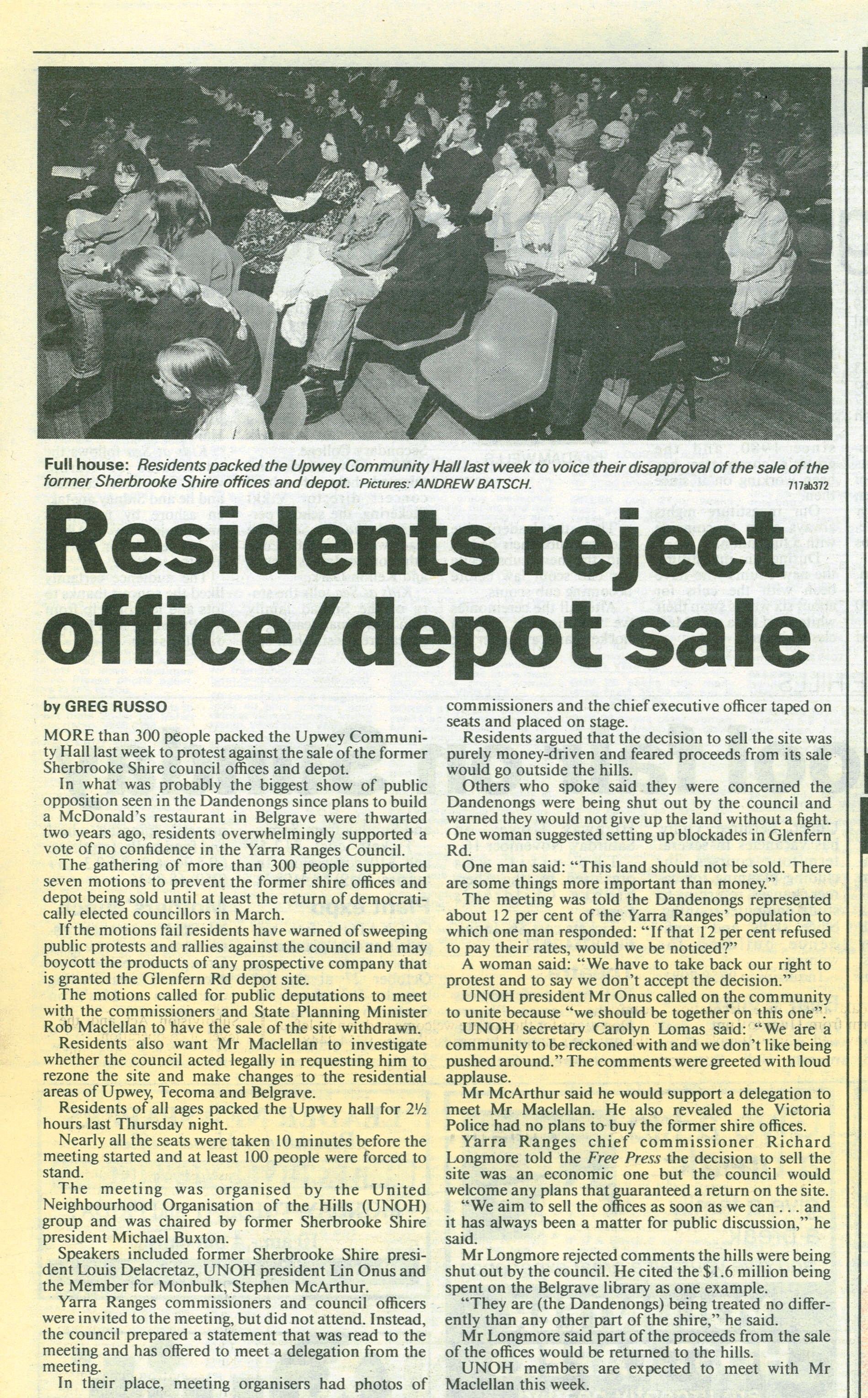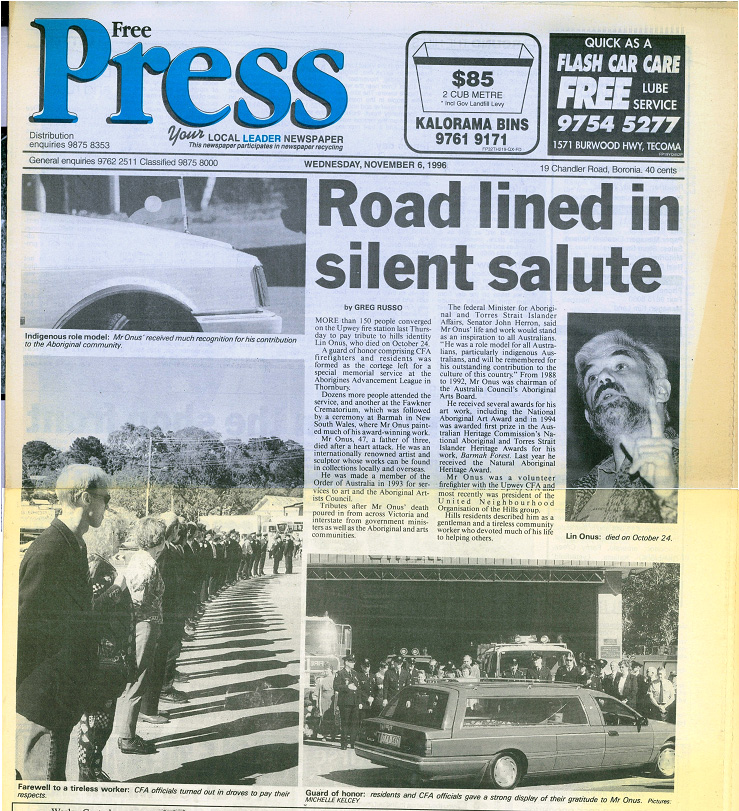 To view full size images right click on image and select 'view image'
Download

Leader Newspaper 16 October 1996
Download

leader Newspaper 23 October 1996
Download

Leader Newspaper No2, 23 October 1996
Download

Leader Newspaper 6 November 1996



b. Theatre Axed Campaign to restore $2m Federal Funding
From 2005 onward Burrinja and partner organisations including local schools worked to develop the proposal to create a new 400 seat performing arts theatre for the Hills at Burrinja and to secure the necessary funding. By 2008 $9.6m was secured in Local, State and Federal funding, and designs were complete for the project to go ahead.
A change in Federal Government at that time then saw the $2m in Federal Funding withdrawn with the 'axing' of the Regional Partnerships Program. This put the entire project into jeopardy.
Burrinja embarked on an intensive 6 week campaign to restore the federal funding through community activism. This included lobbying the Minister responsible directly with pre-printed postcards distributed to project supporters, lobbying other Federal, State and Local politicians, using local, state and national media, and much more. See Campaign Strategy
A series of evocative images featuring an 'executioner' wielding the Federal Funding Axe over the model of the new theatre were used to create postcards, posters and media releases. A protest event with celebrity performers was quickly scheduled.
In all, over 400 Protest Postcards and 120 Letters were forwarded from theatre supporters to the Minister responsible, plus countless emails, texts and other correspondence.
Key Messages:
• A home for Performing Arts in the Hills: AXED
• Disability Access to your cultural centre: AXED
• Your children's future theatre: AXED
• Indigenous cultural garden: AXED
• Your school's local professional venue: AXED
By June 25 the Minister announced that 86 funded projects would have their funding restored under certain conditions, including the Burrinja Theatre, which was able to meet those conditions.
A significant victory for grass-roots activism that enabled the performing arts space to development to proceed. Building commenced in late 2009, and the theatre opened in August 2011.
See Key Campaign Images; postcard; media release; flyer; media article; letter to supporters.
Provocations:
• With so many other 'good causes' and funding needs, why should Governments spend $9.6m on building a new theatre in the Dandenong Ranges?
• Does this represent good value to the community?
• This campaign was professionally driven and coordinated by Burrinja with emotive imagery. Is that how true grass-roots democracy should work to be successful ?
Download

Media Realease - Burrinja AXED



Download

Burrinja AXED - email
Download

Burrinja AXED - flier/span>
Download

Campaing Strategy - Theatre AXED
Download

Leader article Burrinja AXED
Download

Letter to performing arts supporters
Download

Community action event - flier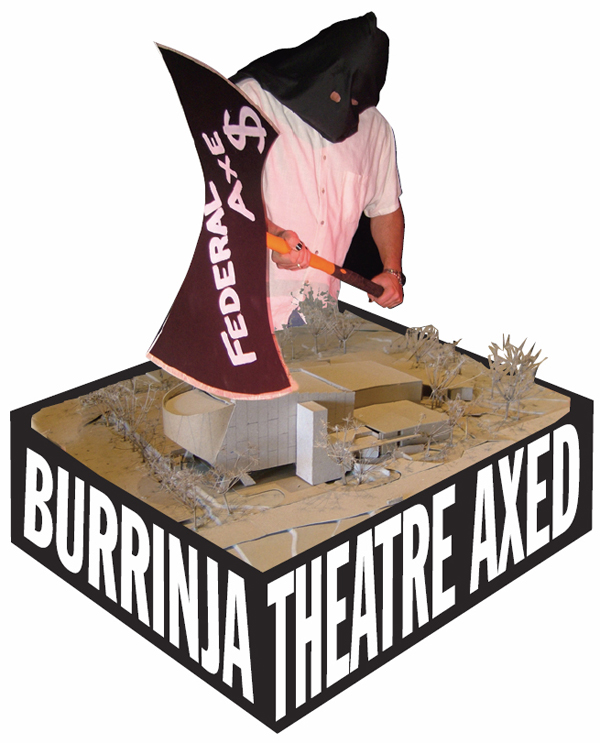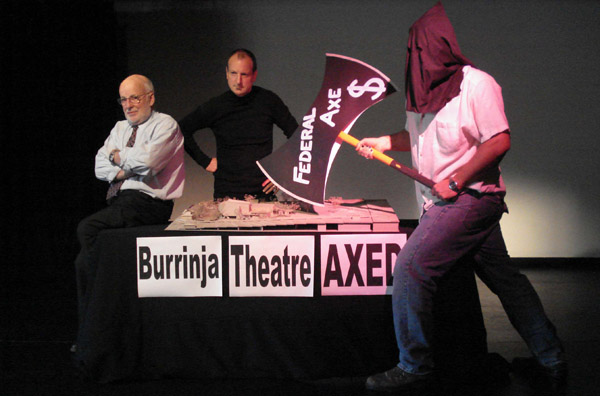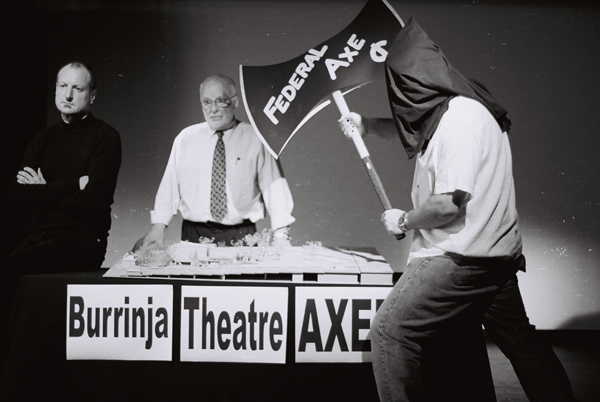 To view full size images right click on image and select 'view image'
2. Citizenship: Art & Activism; Diversity
Artwork for the Burrinja Climate Change Biennale
Artist: Joy Serwylo
Artwork: 'At this point of time, it appears that we have not yet established a plan "B"', mixed media, 2015
Winner of the 2015 Burrinja Climate Change Biennale exhibition acquisitive award.
The first Australian Biennale of its kind, the Burrinja Climate Change Biennale strives to provoke and track critical discussion and cultural conversation around climate change.
By revisiting the theme via an acquisitive award exhibition every two years, Burrinja is aiming to build a valuable historic archive of artists' reflecting changing cultural responses to climate change.
The Burrinja Climate Change Biennale makes the connection between local and world-wide environment, social engagement and community activism. It brings together global issues and arts practice at a local regional level.
There is active Civic participation by artists, the cultural centre and the exhibition patrons, who may express either support for or disagreement with the concepts around the global and local issues of climate change as expressed through art by various artists.
Provocations:
• In the context of Community, Culture and Civic participation, how can artwork affect our opinion about social issues –historically, currently?
• Can artwork be made to work at an emotive level that may influence opinion about the ethics, morality or justice of particular events?
• If so, is that a reasonable thing for artists to do? How can we filter out the artists visual/ emotive message to consider our own thoughts about the same issue independently?
• See Joy Serwylo's work which won the 2015 Burrinja Climate Change Biennale. What is this work trying to do? To Say?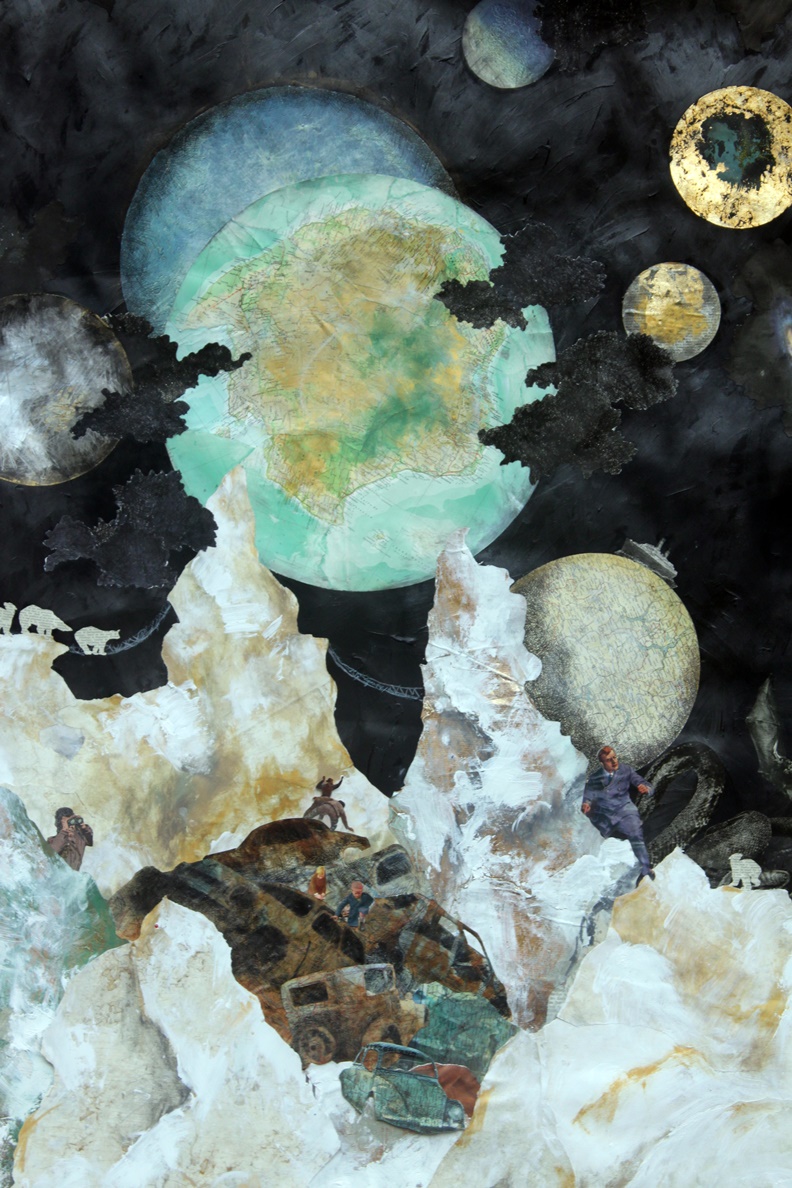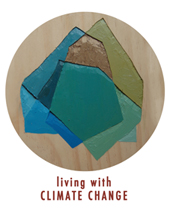 Download

high resolution artwork
3. Art & Culture (activism). Diversity & Identity (Fairness, equality, respect and tolerance)
Indigenous artwork – Indigenous rights and land claims
Artist: Jack Dale Mengenen – Ngarinyin, West Kimberley 1920 - 2013
Artwork: Malu – Map: Me & My Father's Country – family land. Derby 2008
Jack Dale's paintings, with their correlating landscape markers of hills, waterholes and traditional journey lines, were used in a land claim that returned the Imintji country to its traditional owners.
Malu – Map: Me & My Father's Country – family land, is a prime example of these 'land claim' paintings that depicted both historical events and connection to country dating back thousands of years.
Jack Dale (1920 – 2014) lived in the remote and rugged Kimberley region of northwest Australia since childhood. His life spans from the turbulent and often bloody years of early white settlement through to a life working cattle and traveling the north-west as he accumulated knowledge and the ancient stories of the land and its creation spirits.
Jack's life spanned both traditional Indigenous culture and the emerging western en-culturalisation of his people's lands – like many of his generation this challenged identity and saw a wide diversity of cultures having to be embraced. These tensions between indigenous and non-indigenous cultures are evident in the artworks he produced later in his life, most notably in depictions of known 'massacre' sites and his land claim works.
Jack became an important custodian of ancient stories about the land and its creation. The dramatic Kimberley country with its harsh stony areas, steeply rising ranges and deep gorges created by fast-flowing, wet season rivers are the focus of Jack's more abstract works. In map-like paintings that trace the contours of the desert landscape, Jack uses broad areas of strong colour to create a feeling of tangible substance within his mythic vision of the land. His depictions of spirit beings and historical episodes are rendered in a figurative style. Sometimes called the 'Grand Old Man of the Kimberley' Jack was a highly respected tribal elder, both for his custodianship of Ceremonial Law and for his skill as a bushman
Provocations
• Can art work convey or even confer Identity, Belonging or Ownership?
• Can artwork from different cultures help us understand them better – furthering respect and tolerance for difference?
• Can art work be a good indicator of cultural Diversity?
• Indigenous paintings have been commonly used in 'Native Title' land claims by traditional owners to demonstrate 'continuous links to land'. Consider the ability of artwork or other 'cultural artefacts' to demonstrate 'proof' of connection, belonging and identity to land and native title.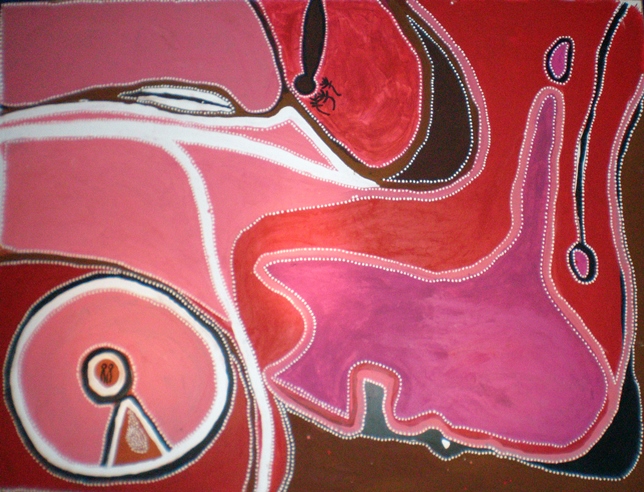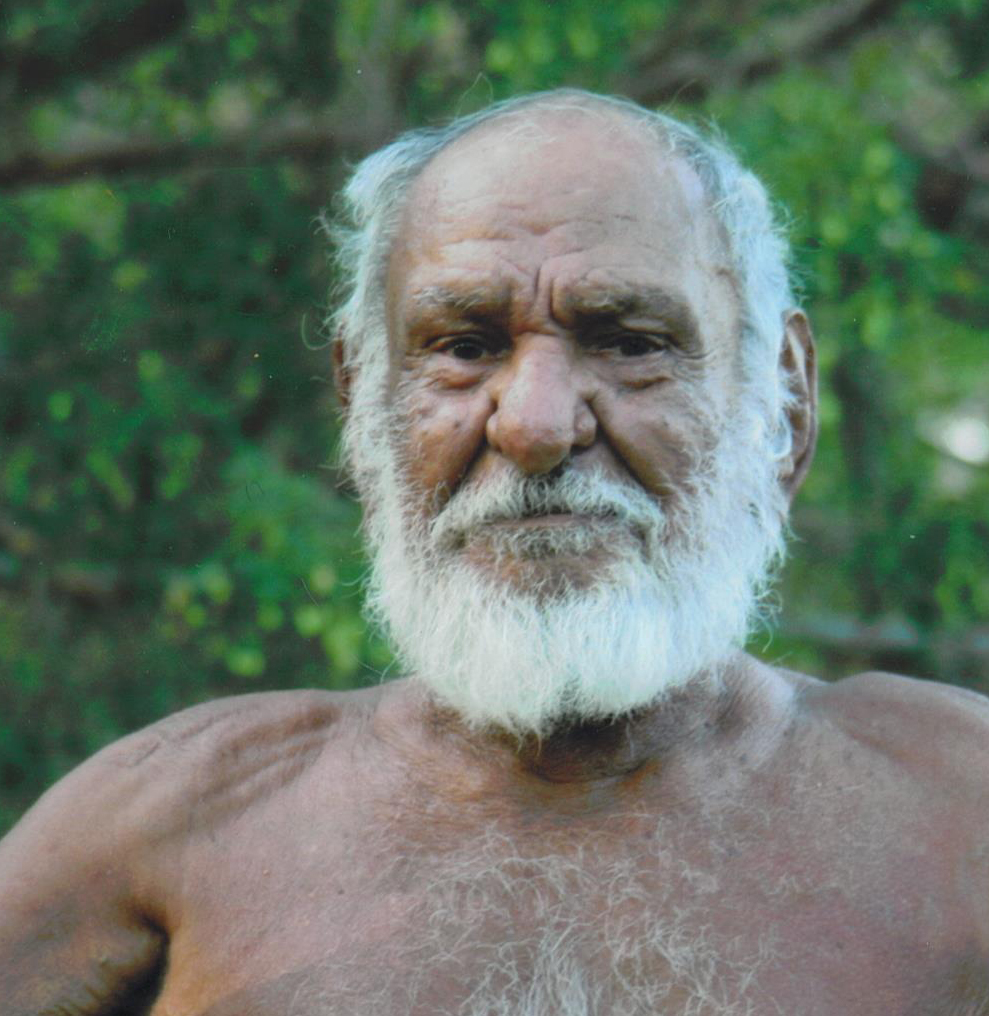 Download

high resolution artwork
4. Oceanic Art – Diversity and Identity; Respect and Tolerance
Cultural artefacts & museum collecting; Cultural context, appropriation, ownership & belonging
Artist: Oceanic Stone Carving – Ingiet
Region: Tolai, New Britain, Papua New Guinea.
Burrinja houses a rare collection of carved figures from PNG called Ingiets. They were originally made as sacred figures for a secret men's society. These 'cult' figures were 'men's-business' and no Tolai or other women were allowed to see or know about them. They were seen as powerful totems that could be used to exact vengeance or retribution on others through sorcery and 'evil' spirits – and the Ingiet carvings could be used as a 'death sentence' against a chosen victim.
Outlawed by missionaries in the early twentieth century, the Ingiet society diminished. The carvings themselves become disconnected from their original cultural and spiritual connection, and are now reproduced for sale by artists from that region.
Provocations
• It is OK for western world museums to collect and hold onto these works?
• Does it make any difference if they are original old Ingiet works made when they had significance, or are modern reproductions? Ie. Can a Reproduction be a sacred object? If that is a photo of the object?
• Should the works be given back to the indigenous community or origin?
• What if that community is no longer interested, or does not have any capacity to keep or store them like a museum would, does that matter? Is that still OK?
• Burrinja knows of at least one instance where a Tolai woman now living as an artist in Australia was interested to visit an exhibition of the Ingiet carvings, but was uncertain whether this was allowed or prohibited still by her culture. After lengthy debate and consultation with Tolai living in PNG she did eventually view the works, but was very uncomfortable about their public display an viewing of them, given the cultural context.
• These were originally made for 'men only' – should museums put them on display or reproduce their images, where anyone can see them, including Tolai Women?
• Is it OK to view an 'Image'. Is there any difference in the reproduction/ object?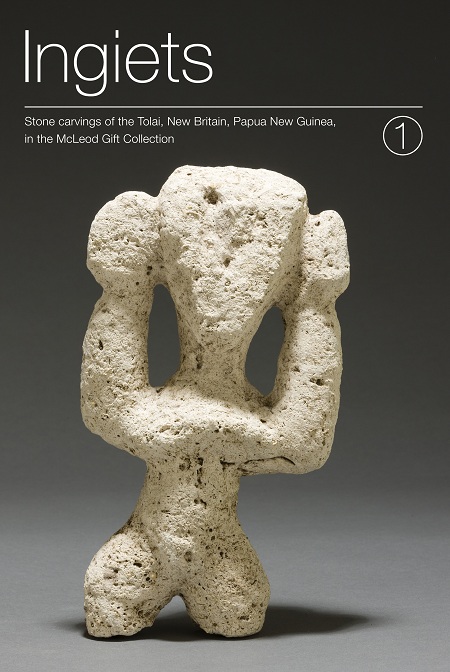 To view full size images right click on image and select 'view image'