Guided tours

Free Guided tours with curator JD Mittmann are available on Thursdays at 11am during the exhibition period. Bookings recommended, contact the Burrinja box office on 9754 8723.
Tours for school groups are also available on request (subject to availability). Contact Burrinja Box office on 9754 8723 to register your interest.
Studio 5 Artists and art call-out
From May 19 Burrinja's Studio 5 will feature local artists experimenting with stencil and creating murals. Artists include Hugo Racz, Amy Middleton and Brit Westaway.
Local schools, artists and families are also invited to creatively engage with this space, create stencils and respond to the exhibition.
Stencil Poster Competition
Burrinja invites everyone to create their own stencils posters - print out the
poster template here
or pick one up at the show, photocopy it, enlarge it, reduce it and repeat it however you like, put your stencil on it and post it up!
Share photos of your finished poster on Instagram with the hashtag
#burrinjastencilexhibition
Send us a photo of your pasted poster to
This email address is being protected from spambots. You need JavaScript enabled to view it.
, the best poster /location will win a copy of 'Bomb It! Street Art is Revolution' directed by filmmaker Jon Reiss.
Burrinja Kids Corner
From 2 June Burrinja Kids corner will feature creative family friendly stencil activities by local artist Jacqui Grace.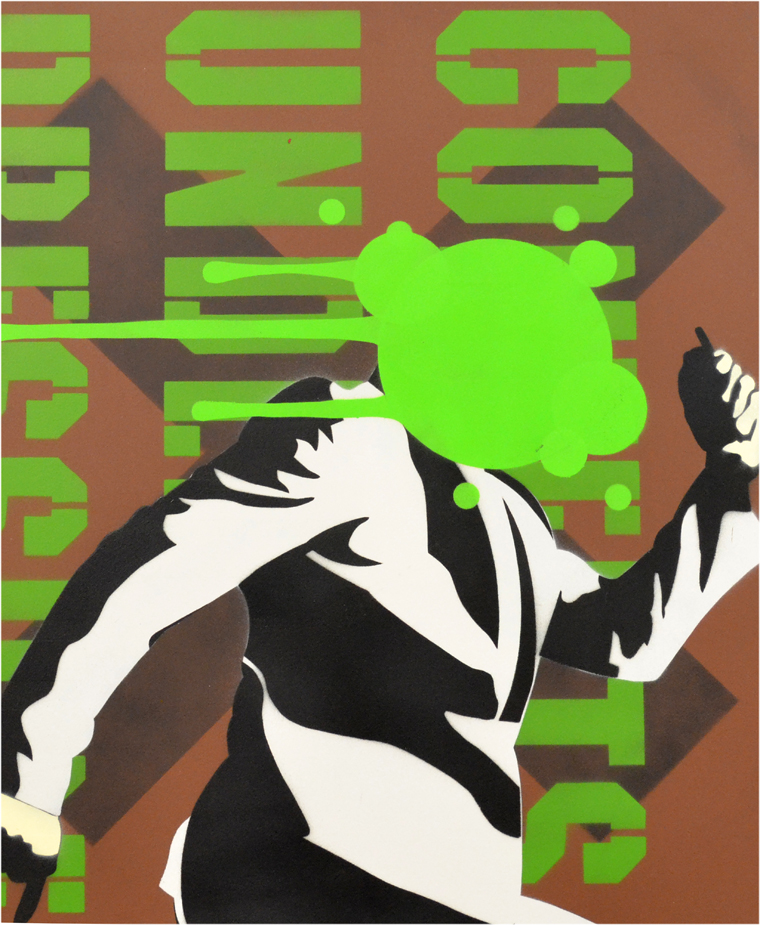 The last decade saw the rise of a new art form as aerosol based stencil paintings appeared in Melbourne's laneways from 2001. At the forefront were dozens of local artists who embarked on an exciting (and not always legal) mission to 'beautify' urban places. Thousands of stencils adorned public and private wall in laneways in Carlton, Collingwood, Richmond and the CBD.

Originally frowned upon, in only a few years 'street art' became 'cool' and publically accepted. Through the proliferation of digital images on the internet the localised stencil art phenomenon quickly grew into a global street art movement. Melbourne became known as 'stencil capital'. Subsequently, stencil art evolved from quick applications on concrete to artistically refined paintings on canvas, and moved from the street into the gallery.

Showcasing over 200 works from private collections by key artists including Psalm, Phibs, Haha, Meek, Meggs, Rone, Ghostpatrol, Satta among others this exhibition presents the formative period of one of Australia's most dynamic art movements.

Curated by JD Mittmann, director of the Melbourne Stencil Festival 2004—2008.