DATES
21 JUL - 19 AUG
VENUE
Burrinja Gallery
PUBLIC PROGRAM
Live portrait painting demonstration
by Vicki Sullivan
SUN 5 AUG 11AM - 4PM
Women Painting Women
Realist portrait painting by Australian female artists.

Women Painting Women is a major exhibition of portraiture oil painting and features recent works by Sally Ryan (NSW), Megan Roodenrys (SA), Dagmar Cyrulla, Vicki Sullivan, Fiona Bilbrough, Raelene Sharp and Heather Ellis (all VIC).
Giving insights into the relationships between the artists and their sitters (among these Yorta-Yorta soprano Deborah Cheetham, actress Sigrid Thornton, domestic violence campaigner Rosie Batty and labour senator Penny Wong), the works touch on a variety of contemporary themes while revealing personal stories of reward and loss.
Taking its inspiration from the realist painting movement in the United States, the exhibition celebrates the talent of female portrait artists and the women who sit for them, and is the second instalment at Burrinja after its successful show in 2016.

"This exhibition uniquely honours the female spirit - of realist painters and their sitters" - artist Vicki Sullivan
Join us for a live portrait painting demonstration by Vicki Sullivan in the gallery on Sunday 5 August from 11 to 4 pm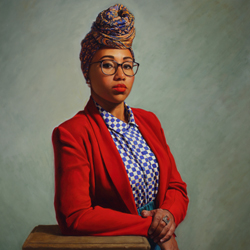 Image: Sally Ryan, Yassmin Abdel Magied, Oil on linen 115.2 x 80.3cm