Date
August - October 2016

Venue
Burrinja Foyer
Burrinja Kids Stay and Play
Created by Tamara McLeish of ArtTreeCreations
We all love colour & our 3 beautiful animal friends need your help. During the cold winter season they have all lost thier colour, spring is coming & they want to get their colourful bodies back. Colour makes us happy, it can influence our day & can make us creative.
Choose a feather or a scale from the picture (they are attached with velcro) make it as colourful as possible & add a little design to personalise it. Pop it back onto the picture then invite your friends to help out with the rest.
Date
13 August - 11 September

Venue
Burrinja Gallery
From the Collection:
Heather Umbagai - Stories of Storm and Fire
In Gallery II a selection of paintings from the McLeod Gift Collection including six previously unseen canvasses by Worrora elder Heather Anjou Umbagai (1954-2013). Umbagai's colourful paintings depict fauna and flora from her traditional country near Derby in the West Kimberley. She was based in the artist community of Mowanjum where she painted in her distinct style with big brush strokes minimalist paintings which border on figurative abstraction.

Image: Heather Umbagai, Boabs in the Storm, Acrylic on canvas, 65 x 75 cm, 2003.
McLeod Gift Collection B0408


Date
13 August - 11 September

Venue
Burrinja Gallery
Mater Christi College Arts Show

The annual showcase of artwork produced by students of Mater Christi College in Belgrave during Semester 1, 2016. The variety of techniques and skills on display reflects personal interests and stages of development in drawing, painting, printing, digital media, photography and model making. These artworks come from a range of Visual Arts subjects including: Years 7 - 10 Art, Years 9 & 10 Graphic Design, Year 11 Studio Arts and Years 11 & 12 Visual Communication Design.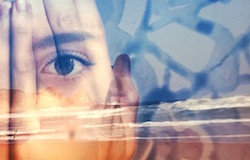 Image: Samantha Clark, Falling into Fun, Digital Photography.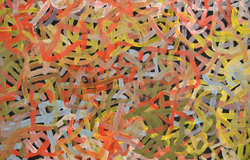 Image: Emily Kame Kngwarreye
Bush Yam Dreaming, Acrylic on canvas 183 x 152, 1995 (detail)
Date
16 September – 27 November

Venue
Burrinja Gallery
Masters of Aboriginal Contemporary Art
Emily Kame Kngwarreye
A survey exhibition of one of the Western Desert art movement's most important artists Emily Kame Kngwarreye.
Credited with taking Australian indigenous art to the world 'Emily' is one of our most iconic and collectable painters. An Anmatyerre elder, keeper of the Alhalkere Women's Dreaming stories, she was in in her 70's before she began capturing this deeply significant cultural heritage on canvas.
This exhibition is part of Burrinja's Masters of Aboriginal Contemporary Art series which presents an intriguing portrait of Australia's most revered Aboriginal and contemporary artists.
"Kngwarreye's prominence is no overnight sensation; it finds its roots in a lifetime of ritual and artistic activity. Her energetic paintings are a response to the land of her birth, Alhalkere, north of Alice Springs … the contours of the landscape, the cycles of seasons, the parched land, the flow of flooding waters and sweeping rains, the patterns of seeds and the shape of plants, and the spiritual forces which imbue the country. Kngwarreye's vision of the land is unique; her paintings challenge the way we look at art by Aboriginal Australians" Wally Caruana, National Gallery of Australia
'Few artists have painted the country like she has, with an ability to penetrate its very soul'. -Margo Neale, curator of her 1998 retrospective exhibition
Date
10 Dec - 12 Feb

Venue
Burrinja Gallery
Wominjeka: A New Beginning

Wominjeka: A New Beginning celebrates 30 years of the Koorie Heritage Trust. This project highlights cultural continuities alongside new modes of creative practice in the work of five cross-generational early career artists;
Georgia MacGuire, Aunty Marlene Gilson, Mitch Mahoney, Josh Muir
and
Raymond Young.
Each of the participating artists has developed new work in dialogue with the Trust's significant collections of objects, artworks, archives and oral histories – each identifying objects and artifacts that share or spark a connection with their own artistic practice, personal or cultural enquiry. Over a three-month period the artists worked alongside senior mentors;
Maree Clarke, Lee Darroch, Ray Thomas
and
Peter Waples-Crowe
to explore the Trust's Collections and to develop new works in dialogue with the past.
The exhibition presents this new work alongside the objects of inspiration from the Trust's collection. Exhibited works utilise a broad array of media, materials and techniques including; painting, animal skin cloaks and textiles, bark and feather flowers, clay shields and digital prints.
Exhibition coordinator: Jan Duffy, Koorie Heritage Trust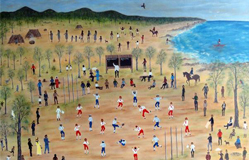 Image: Aunty Marlene Gilson
(Wathaurung / Wadawurrung) (detail)
Marngrook Football, 2015
acrylic on canvas
Courtesy of the artist