Date
27 February - 29 March

Venue
Jarmbi Gallery (Downstairs and Upstairs)
DUCK:Linked by Landscape

DUCK art collective (Janine Good, Chris Delpratt, Kathryn Birch, Phil Hodson, Geoff Harrison) presents an exhibition of paintings in which the Australian landscape plays an intrinsic role. Five very individual investigations.
Opening Saturday, 28 February 1 pm.
Artist talk, Saturday, 14 March, 11 am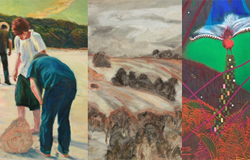 Date
28 February - 22 March

Venue
Burrinja Gallery
Jack Dale:Wandjinas

Known as the 'Grand Old Man of the Kimberley', Jack Dale (1920-2013) was a skilled bushman, highly respected elder and senior lawman. He came to painting late in life, developing a distinct style.
This exhibition brings to together a selection of large scale paintings of the immensely powerful Wandjina spirits, ghost-like figures with large eye and halos, which are responsible for the monsoonal rains in the Kimberley region of the End Top. In time with the wet season in the North, this 'gathering' of spirits (paintings) will surely impress the gallery visitor if not create a storm.