Date
20 MAY – 18 JUN

Venue
Burrinja Gallery
Contemporary Australian Landscape
Ebony Finck, Jonathan Carmichael and Vicki Moritz

Landscape photography plays a key role in defining who we are as a nation, and how we see ourselves in relation to the environment we inhabit. The landscape can play a key role in both uniting and disconnecting us.
Australia is a vast and unforgiving land, still largely uninhabited. The landscape seems charged with spiritual presence and a stark emptiness that haunts our suburbs and extends across deserts to the deep sea on every side. Across these dusty plains and rocky grounds, flora and fauna astoundingly flourish, from the wildflower to the Australian Brumby. The idea of struggle is deeply entrenched in our national psyche. Even in the harshest environments, life beckons us to understand our history and surroundings.
This exhibition draws together three Victoria-based contemporary photographers to continue this dialogue with the surrounding land. Ebony Finck, Jonathan Carmichael and Vicki Moritz present very different visual interpretations of modern Australia.
Exhibition opening Fri. 19 May, 6:30 – 8:30pm REGISTER HERE
Meet the artists: Landscape interpretations Sat. 10 June 2 – 3 pm
Ebony Finck, Vicki Moritz and Michael Carmichael will discuss their work in the current Burrinja Gallery exhibition Contemporary Australian Landscape and field questions.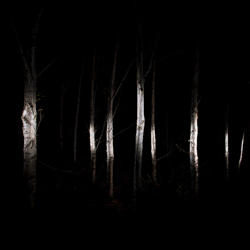 Jonathan Carmichael, Birch Tree, 2015



Dates
20 May - 18 June
Venue
Burrinja Gallery
Experience the work of artists from Arlpwe Arts in Ali Curung, located in the spinifex country four hours north of Alice Springs, in the Northern Territory. Burrinja is proud to present new paintings by members of the four language groups who reside in Ali Curung (Warlpiri, Warumungu, Kaiditch and Alyawarra).

Due to unforeseen circumstances the artists are no longer able to visit Burrinja during the exhibition.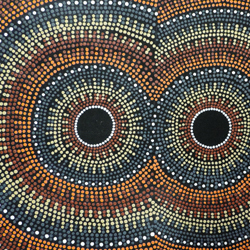 Image: Mary James 'Desert Colours', acrylic on canvas (detail)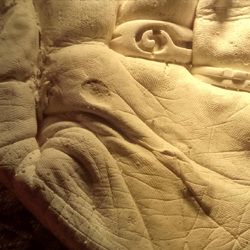 Date
MAY, JUN & JUL

Venue
Burrinja Foyer
Skin Side Out. Renate Crow
Burrinja Kids Stay and Play free family activity by local artist Renate Crow
You are invited to look at some shapes we make with our bodies. Where does that bit go in between when we connect with someone, when we thumb wrestle or Hi five. That bit in between, see inside this hidden place imprinted on silicone pieces, look closely at the textures.
What patterns do our bodies have, match up the pieces, where are they from. See if you can find the belly button!
Capture yourself, what impression will you leave in the sand?
Draw your hand shape on the community canvas and see how many we get in 3 months.
(Parents are encouraged to photograph the impressions in the sand and canvas to take home.)
More about
Burrinja Kids - Stay and Play
Dates
13 MAY - 4 JUN
Venue
Growing Pains Initiative
Burrinja Level 1
WHAT THE F***!?
Growing Pains Initiative
Steph Wright | Tegan Bell | Emma Woodhams-Bertozzi | Genevieve Villaflor | Fleur Bain | Britt Westaway
Growing Pains Initiative is proud to launch it's first exhibition "What the F***", showcasing 6 young emerging artists exploring the uncertainty of being in the early stages of their careers, with many using processes where the results are unknown at the beginning. The works in this exhibition show that exploration and experimentation are part of figuring out who we are as creative people. "What the F***?!" also accurately describes how the three Growing Pains Initiative founders feel on a day by day basis as they guess their way through the gallery management world.


Opening Event May 13th 1-3pm Drinks and nibbles provided

More Growing Pains Initiative


This project is supported by Burrinja and Yarra Ranges Council.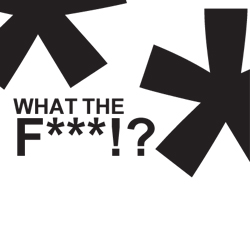 Dates
24 JUN - 23 JUL
Venue
Burrinja Gallery
One Step at a Time
Belgrave artist Susie Parry's passion for beauty, the intricacies of nature and the vibrancy of light falling on objects have led her to contemplate the intimate connection between nature and humans. In her exhibition
One Step at a Time
the representation of ground reaches to the literal an to the symbolic - the interplay of time and space in human development, represented by the shoe.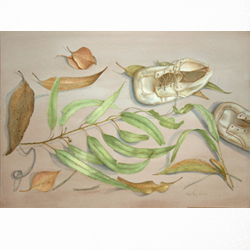 Image: Susie Parry

Dates
24 JUN - 23 JUL
Venue
Burrinja Gallery
Paintbrush, Loom & Hammer
Three variations on a natural history theme
Jessie Yvette Journoud-Ryan | Michele Fountain | Amy Duncan
In this unusual collaboration, three artists approach a common nature theme with vastly different techniques.
Sculpture artist Jessie Yvette Journoud-Ryan smashes found pieces of crockery and gives them new life in the form of sculptures, using these man-made shapes and materials to create interpretations of natural forms such as flowers and birds.
Handweaver and printmaker Michele Fountain creates textural objects and images featuring wildflowers and trees, using lovingly hand-crafted textiles and hand-cut linoleum prints.
Tattoo artist and painter Amy Duncan channels her love of botanicals and traditional vanitas themes into finely detailed still life paintings, featuring her own flower arrangements and found natural objects.
This eclectic collection of work is a playful reflection on and celebration of the botanical, the universal language of flowers and natural history.
Exhibition opening: Sat. 24 June, 6:00 – 9:00
REGISTER HERE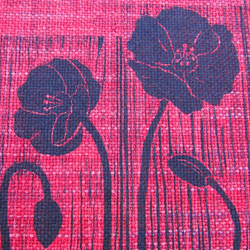 Michele Fountain
Dates

24 JUN - 23 JUL
Venue
Burrinja Gallery

Glenn Loughrey: In Exile form the Edge - A Personal Journey
Glenn Loughrey is a Wiradjuri man from NSW and a priest at St. Oswald's Anglican Church, Glen Iris. He is an artist who fuses Indigenous art styles with Western forms of story telling. In this exhibition he presents a collection of acrylic paintings reflecting the diversity of Indigenous identity and its disconnect from the dominant culture. He explores his own journey of discovery to reclaim the sense of country on a personal and community level.
Artist Talk Sat. 1 July, 2:00– 3:30pm
Glenn Loughrey will talk about his personal journey of discovery to reclaim the sense of country on a personal and community level. Rev Loughrey is a Wiradjuri man from New South Wales and priest at St. Oswald's Anglican Church in Glen Iris.
Following the talk light refreshments will be served.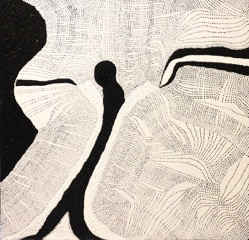 Image: Turning Heaven to Earth, acrylic on canvas

Date
29 JUL - 3 SEP

Venue
Burrinja Gallery
Mater Christi College Arts Show

The annual showcase of artwork produced by students of Mater Christi College in Belgrave during Semester 1. The variety of techniques and skills on display reflects personal interests and stages of development in drawing, painting, printing, digital media, photography and model making. These artworks come from a range of Visual Arts subjects including: Years 7 - 10 Art, Years 9 & 10 Graphic Design, Year 11 Studio Arts and Years 11 & 12 Visual Communication Design.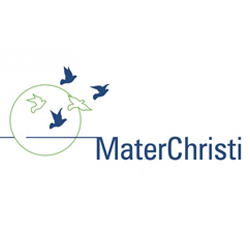 Date
9 SEPT – 5 NOV

Venue
Burrinja Gallery
Frank Hodgkinson: Sense of Place

Frank Hodgkinson (1919-2001) was one of Australia's foremost abstract painters and artists. He was drawn to the Australian landscape in general and Aboriginal culture in particular in all its manifestations.
His curiosity with Aboriginal art and culture called him to the Top End for long periods of time throughout since the 1980s. Arnhemland especially made a deep impression on him, and he returned several times to this spirited country.
Hodgkinson subsequently authored 'Kakadu and the Arnhem Landers', one of three diaries ('Paris Sketchbook' and 'Sepik Diary' being the others) in which he illustrated his hand written text with detailed sketches and washes.
Sense of Place will present original sketches and excerpt of this diary together with a selection of larger paintings, which show the artist as an observer exploring the spiritual connections to country and people as Hodgkinson poses on the most central of human questions: Where do we come from?
"Frank Hodgkinson is a prodigy. He is a man so various that he hardly gives you time to focus on any single one talent. He is a painter, a sculptor, an architect, a designer of habitats and ambiences. His creative energy is enormous. His curiosity is at once that of a child and a mature philosopher trying to make sense of the cosmos over which he has ranged with hunger and delight" -
Morris West.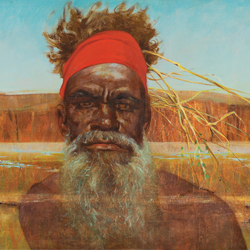 Frank Hodgkinson
Portrait of Nipper Kaparigi- Landscape of the Indigenous Mind (detail)



Date
11NOV 2017 – 28 JAN 2018


Venue
Burrinja Gallery
Burrinja Climate Change Biennale #2

Be moved by the artwork and be part of the conversation with the second Burrinja Climate Change Biennale.
Committed to artwork engaging the challenges of climate change, the second Burrinja Climate Change Biennale invites artists of diverse disciplines from all over Australia to submit artwork for this important exhibition and major acquisitive art award.
Audiences are invited to be part of the conversation with ongoing interactive social media and art-making activities in the gallery. A focus of the biennale is tracking critical discussion and cultural conversation around the issues of climate change today and into our future. By revisiting the theme via a biennial acquisitive award exhibition, Burrinja is building a valuable historic archive of artists' reflections on the shifting cultural responses to climate change. #BurrinjaClimateChangeBiennale
"
I've never seen vulnerability depicted so well. Without an expression or words… The message comes through so clearly!"
- Melissa Wells (Biennale Patron)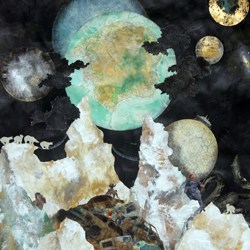 2015 BCCB winner Joy Serwylo,
'At this point of time, it appears that we have not yet established a plan "B" '
mixed media, 2015