Proposal to Extend Parking at Burrinja
and Amend Planning Permit
Over the past three years we have been working with Yarra Ranges Council to explore ways to improve access to Burrinja's facilities without impacting on local residential amenity. This includes finding ways to meet the school communities need to for there to be more people on site when they use the facility and to increase the number of events held each year with more than 300 persons in the theatre.
Why?
Currently our Planning Permit allows only 517 persons on site at Burrinja at any one time. This number was determined through available car parking during the planning stage for the new theatre.
Additionally we can only hold 15 events per year with more than 300 seats on sale in our 400 seat theatre.
Burrinja wishes to amend these restrictions to allow better access to and use of the facility by local schools, organisations and the wider community. Most notably the requested changes are designed to better enable events with large numbers of performers on stage - especially schools – and to accommodate their families in the audience. Currently, 100 seats remain empty for many events despite strong demand from family and friends for tickets.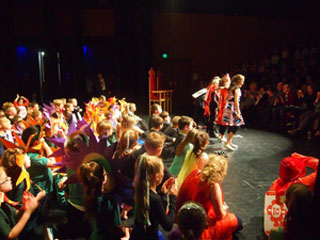 Knox Park Primary School perform at Burrinja

What do we want to change?
We are proposing to create a total of 30 new 'overflow' car spaces, available for larger events.
With more parking available we are seeking to increase the 'persons on site' number from 517 to 600 plus staff and teachers, allowing 615 in total. This is in line with the planning ratio applied to car parks per patrons.
With this increased parking capacity we propose to increase the number of times that we can sell more than 300 seats, from 15 times per year to 50 times per calendar year until December 30, 2021, and thereafter up to 64 times per calendar year.
How will Burrinja manage more activity?
Many of the events will not be 'new' events, but rather existing 300 seat events, now able to have up to 400 seats available. For a lot of those events, that won't mean selling 400 tickets, but it may mean a small increase to 320 or 340 for example.
The peak demand school events typically run between 7.00pm and 9.30pm, with the venue and car park cleared by 10.00pm to 10.30pm. Burrinja and the Schools continue to work actively to reduce parking demand by encouraging the school community through ticketing and other promotional material to travel via car-pooling to the event. Our standard procedure is to email all booked patrons during the week of the performance to remind them about arriving together.
Burrinja continues to employ Parking Marshals to manage the use of car parks and monitor patron behavior at events with over 300 patrons, and we do not run consecutive events in other venues when we have a booking selling 300 seats or more. These measures have been shown to be effective since our opening in July 2011.
How will that work?
As part of their role, our event parking marshals record numbers of cars parked in surrounding streets. These records show that during events where 400 seat capacity has been reached and where one-off planning exemptions have been granted to exceed 517 persons on site and to allow for 200 performers, the number of cars parked in the streets related to Burrinja has seldom exceeded 30.
So by providing an extra 30 car parking spaces within the footprint of cultural centre's parking, demand in for car parking in residential streets will be significantly reduced. The increased total number of car spaces provided on and off site will meet the planning requirements for the proposed 615 persons on site, and result in less cars parked in nearby streets.
Resident Consultations about the proposals.
In 2014 we surveyed the closest 100 surrounding residents to gauge the level of impact on local amenity that may be attributed to events at the cultural centre since the theatre opened in 2011. Most responses from residents regarding the impact of traffic, noise and patrons, fell into the 'Rarely' and 'Never' categories. However there were still some concerns expressed in the survey, and we have been working on ways to mitigate these.
After further consultation and feedback we determined to find a way to increase parking capacity at the site so as to reduce any impact on residents that an increased number of events and patrons might otherwise have.
Residents views on these planning proposals have been sought since 2015, and a number of suggestions on ways to improve our plans have been taken onboard and incorporated into our final design.
What is Proposed?
Increasing available Parking – Low impact, overflow parking
It is proposed to convert the current 16 parallel parking spaces on the western side of Matson Drive to 90 degree, rear-to-curb angle spaces, resulting in a net gain of 28 spaces in total. We can also provide a further 2 car parking spaces within existing onsite parking.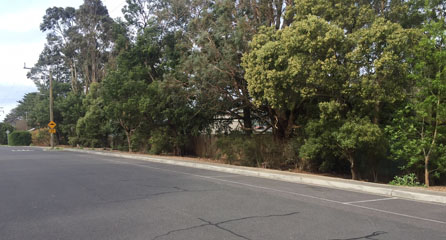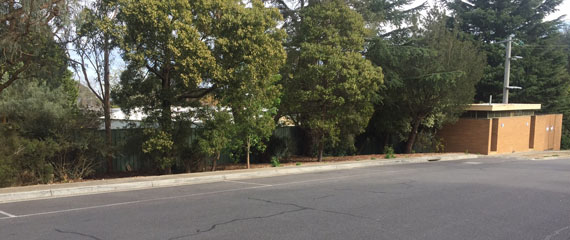 Current parking western side Matson Drive
Taking up the suggestions of a number of residents during our consultations, we have redesigned our proposal so that all of the parking on the western side of Matson Drive will be re-established as 'Overflow Parking' only. We will utilize a semi-landscaped permeable surface that eliminates existing or any further 'tarmac' surfacing in that area.
Parking will be actively discouraged from that area through the use of a roll-over curb, semi-permeable surface with grass, signage and the occasional removable 'barrier'.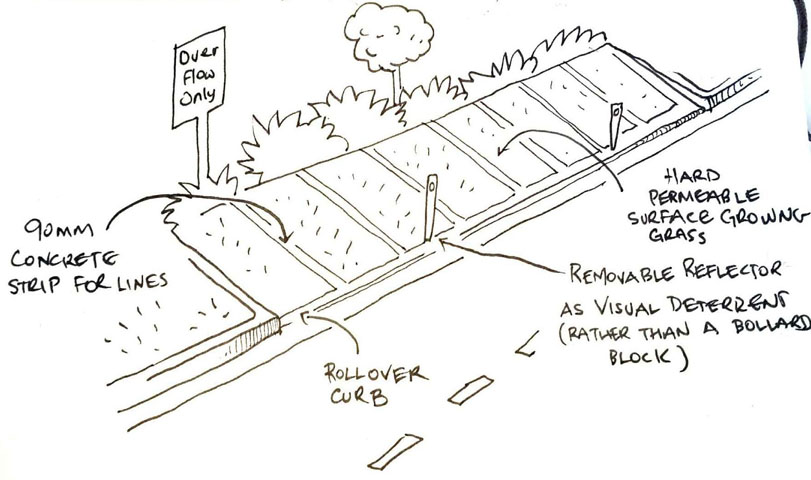 Design concept of soft landscape overflow parking
Patrons will be encouraged through signage and increased utilisation of the lift access from our undercroft car park to the building to make more use of the undercover and other on-site parking, rather than Matson Drive.
This will have the effect of reducing the number of cars using Matson Drive for Burrinja parking throughout the year, decreasing car movements in this stretch of road on most occasions.
For those times when larger events are on, our parking marshals will direct patrons to use the newly established overflow parking spaces, parking rear-to-curb to reduce 'post-show' congestion.
This proposal also includes removal of the under-utlised public toilets on Matson Drive that remain from old 'shire depot' days.
What happens now?
While Burrinja appreciates that some residents are not in favour of these amendments, we believe that the changes we are making to the site conditions through the provision of increased parking will more than cater for these proposed occupancy changes, and for most times of the year will decrease any impact that Burrinja may have on local amenity through patron parking.
Therefore an Application to Amend our Planning Permit was lodged with Council in early September 2017, incorporating the proposed new parking and changes to permit conditions. At this stage the Application is being reviewed by the Planning department.
Please see the design of proposed car parking modifications and civil works as submitted with our proposal.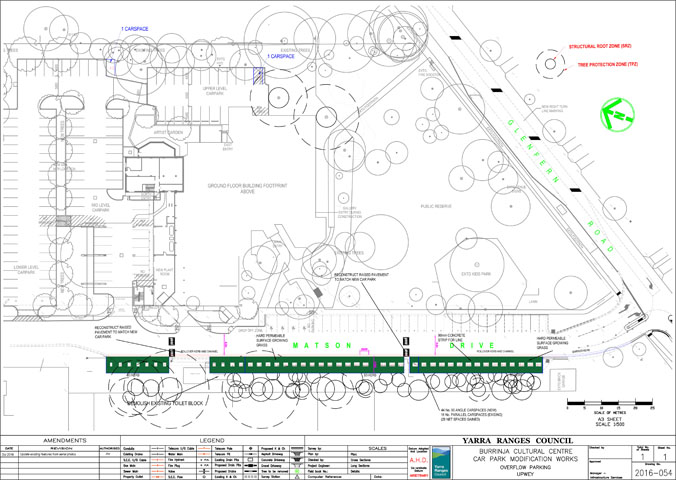 To see a large version click here
For any further information or inquiries about this process you can email our Executive Director Ross Farnell on This email address is being protected from spambots. You need JavaScript enabled to view it. or call on 9754 1509
Matt Posetti
President, Burrinja Board
Dandenong Ranges Community Cultural Centre Inc – Burrinja