Belgrave Lantern Festival

ABOUT THE BELGRAVE LANTERN FESTIVAL/ PARADE WINTER SOLSTICE
The Parade celebrates the Winter Solstice – our shortest day of the year. It marks the midst of Winter in our cycle of seasons, but most importantly it heralds the turning point – the new beginnings as we turn toward Spring and the blossoms of the Hills that are just around the corner.
The Winter Solstice is the shortest day and the longest night. All over the world people come together in their communities to acknowledge this important moment, celebrating with festivals, food, music, rituals, costumes, arts and more. Come and express yourself with your lanterns, your outfits, with your community group, with your sense of creativity and your festive spirit.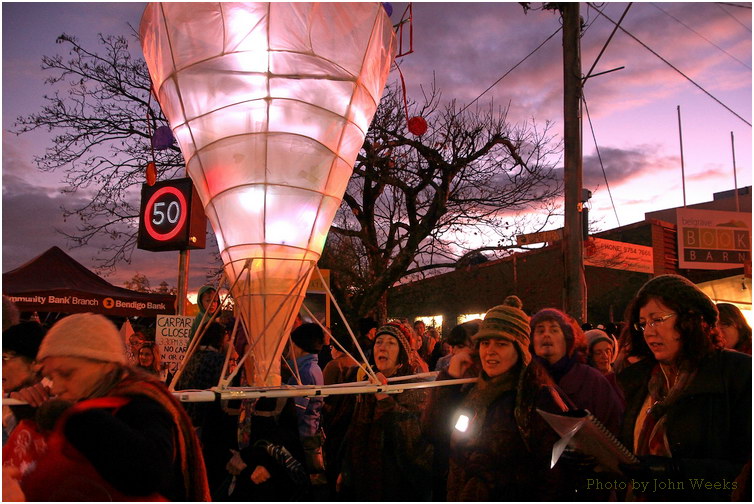 2021's Belgrave Lantern Festival puts all of Belgrave on the map, taking festival revelers on a self-led journey across and around the entire township. 'Activated' spaces and creative precinct ' pop-ups' appear in streets, alleyways, arcades, nooks and crannies, featuring art, music, workshops, circus arts, DJ's, bands, solo artists, food trucks, fire-pits, and more.
The Lantern Making workshops and accompanying lantern masterpieces
Belgrave will again become a literal and figurative beacon of light, levity, and celebration across the hills this year, albeit without its parade, which will need to go on the back burner for another year. That said, what steps up and into its place, is no bitty substitute. On June 19, The Belgrave Lantern Festival will splash down! And it may well prove to be a way shower for all future lantern events.
So, will there be lantern-making workshops in the lead-up? Absolutely. Can I bring my lantern on the night? 100%. Will I get a chance to display my lantern-like last year? Without a doubt.
On the longest night of the year, we invite you to experience and re-experience Belgrave anew. June 19 is a homage to light, the imagination and to the community that illuminates, nourishes and informs how Belgrave lives, works and plays together.
Book in for a lantern making workshop here