BELGRAVE LANTERN PARADE
Saturday June 22, 2019


Our 13th annual Belgrave Lantern Parade promises another amazing celebration of creativity and community in the Hills.
Each year the Lantern Parade brings together the community of the Hills in a celebration of friendship, light, warmth and creativity on the shortest day of winter. The street is reclaimed for the people and thousands flock to take part in one of best and biggest community-made spectacles as hundreds of lanterns line the main street, accompanied by drummers, dancers and performers of all sorts. There's also a lineup of fabulous performers and events before and after the Parade, and the Parade Village with fire pits, food stalls and community signing into the night.
DOWNLOAD THIS YEARS SCHEDULE SOON
DOWNLOAD THE iCal FILE SOON
2019 promises more big lanterns from more groups in the community, coming together in the weeks and months leading up to the parade and working with our Hill's own Lantern Artists to create awe inspiring large group lanterns of special significance.
Volunteer and be part of the fabulous team that makes the parade happen!
Volunteering at the lantern parade is a great way to help celebrate our creative community
In fact, the event simply wouldn't happen without this vital support.

The main requirement for volunteering is simply a willingness to be part of a fun team. No specific skills are necessary, although if there's an area where your skills could best utilised, it'll be great to have you share them with us. You can check out the volunteer roles and fill in a Volunteer Registration form on the here, or simply send us an email to This email address is being protected from spambots. You need JavaScript enabled to view it. or jump on our Lantern Parade Facebook Page and say Hello!
Volunteering is a great way to get even more out of this wonderful annual community event.
If you'd like to become a part of the Belgrave Lantern Parade, or know more:
Contact This email address is being protected from spambots. You need JavaScript enabled to view it.
General Inquiries; Facebook or via Burrinja 9754 8723
Remember to walk, ride, catch a train or share a lift to the Parade in 2018 – and leave the car at home!


Lantern Making Workshops
Make a beautiful lantern for the Belgrave Lantern Parade to celebrate winter solstice (22 June). All materials included and carry pole. We will be making pyramid lanterns or easy milk bottle lanterns for small children.
There are 4 workshops held at the Belgrave Library community room, Reynolds Lane , Belgrave , Victoria 3160
Click the here to book your spot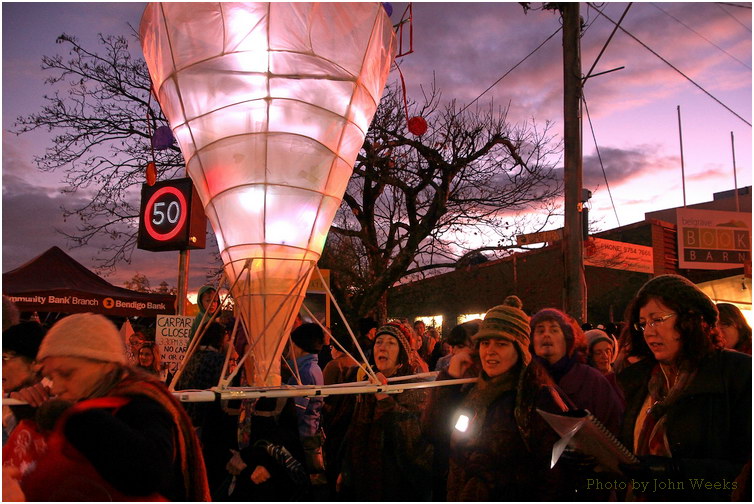 ABOUT THE BELGRAVE LANTERN PARADE & WINTER SOLSTICE
The Parade celebrates the Winter Solstice – our shortest day of the year. It marks the midst of Winter in our cycle of seasons, but most importantly it heralds the turning point – the new beginnings as we turn toward Spring and the blossoms of the Hills that are just around the corner.
The Winter Solstice is the shortest day and the longest night. All over the world people come together in their communities to acknowledge this important moment, celebrating with festivals, food, music, rituals, costumes, arts and more. Come and express yourself with your lanterns, your outfits, with your community group, with your sense of creativity and your festive spirit.