Women Painting Women
30 April - 29 May


Fiona Bilbrough | Jacqui Grantford | Raelene Sharp | Sally Ryan
Vicki Sullivan | Avril Thomas | Heather Ellis
Artists in Conversation

Fiona Bilbrough

Jacqui Grantford

Raelene Sharp

Sally Ryan

Vicki Sullivan

Avril Thomas

Public Program
Exhibition Opening

Sun 1 May at 2pm
Opening address by Jane Alexander: Director Mornington Peninsula Gallery
RSVP via email to
This email address is being protected from spambots. You need JavaScript enabled to view it.
or phone 9754 8723
Artist Talks
Raelene Sharp &
Jacqui Grantford

Sat 7 May at 2pm
Join award winning realist painters Raelene Sharp and Jacqui Grantford for artist talks and an informal Q&A discussion about their individual art practices, experience and insights.
FREE event
Booking essential online here or call 9754 8723
Painting Demonstrations

Sun 15 May from 11am

Drop by from 11 am to experience award winning realist painters Fiona Bilbrough and Vicki Sullivan painting live subjects in the gallery.
FREE event
No bookings necessary
Expert Casting
Sun 22 May at 2pm
Everything you wanted to know about bronze casting and didn't know who to ask.
Join Sculptor Heather Ellis and foundry expert Craig McDonald for an in-depth discussion of the fine craft of bronze casting. From loss wax, through the investment casting, working with the kiln and pouring the bronze, hear about the intricacies of the long standing tradition of bronze casting.
FREE event
Booking online here or call 9754 8723
Artist Talk
Vicki Sullivan

Sat 28 May at 2pm

Join award winning realist painters Vicki Sullivan for an artist talk and an informal Q&A discussion about her painting practice, experience and insights.
FREE eventBooking online here or call 9754 8723
Women Painting Women is a major exhibition of portraiture in traditional oil painting and bronze sculpture. It presents award winning realist painters from Victoria, South Australia and New South Wales including Fiona Bilbrough, Jacqui Grantford, Raelene Sharp, Sally Ryan, Vicki Sullivan, Avril Thomas and sculptor Heather Ellis.

Taking its inspiration from the Women Painting Women exhibitions in the United States, this is the first Australian instalment of the Women Painting Women phenomenon which celebrates traditional realist painting and the talent of female artists.
For more information on the Women Painting Women phonomenon go online to womenpaintingwomen.blogspot.com.au/
"Women Painting Women" explores how contemporary women painters are handling women as subjects. The blog was founded by artists Alia El-Bermani, Diane Feissel and Sadie Valeri.

Featuring well known Australian women such as Nobel Prize Nominee Dr Catherine Hamlin, actors Kerri Armstrong and Jacki Weaver, opera singer Liane Keegan, and self-portraits of the artists, the exhibition highlights the power and insight of women painting women and situates the artists' work within the broader art historical context.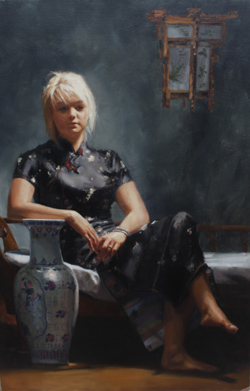 Fiona Bilbrough, Aleysha Coming of Age
84cm x 125cm, Oil on linen, 2013


Fiona Bilborough
Aleysha is my niece, she was 18 when this portrait was painted, she has been my muse for over ten years her chameleon like hair changes continue to make her an interesting subject from coca-cola red hair, brunette, and blonde she never fails to surprise me. I felt I wanted to paint Aleysha at the end of her schooling years, marking her entry into adulthood.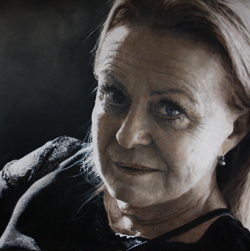 Jacqui Grantford, Complex Simplicity – Jacki Weaver
150cm x 150cm, Oil on Linen, 2013

Jacqui Grantford
Jacki Weaver is one of Australia's most well know actors and has been working in Australian film, stage and television since the 1960s. In 2011 she was nominated for an Academy award for best supporting actress in 'Animal Kingdom', and then again in 2013 for 'Silver Linings Playbook'. My immediate impression of Jacki Weaver when she sat for me was that she is very honest and open, having an almost a naïve simplicity. But there is an edge to her that gives depth. I was impressed by Jacki Weaver's lack of vanity as well. She wore no makeup and told me that she was quite happy if I painted her, 'ugly'. This created an interesting dilemma for me. I would look at the glamorous images of her on the internet and they were quite different to the Jacki who sat for me with no makeup except last night's mascara still smudged on her face. I contemplated adding more of the glamour that the public was used to seeing, but decided that her naturalness was what made her so captivating. I wanted to capture her edginess from a full and often difficult life led, and also her directness.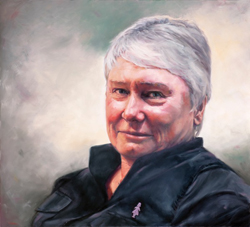 Raelene Sharp, Raelene Boyle

Raelene Sharp
About Raelene Boyle
Raelene Ann Boyle, AM, MBE, born 1951, is an Australian athlete, who represented Australia at three Olympic Games as a sprinter, winning three silver medals. In 1998, Raelene was named one of 100 National Living Treasures by the National Trust of Australia. She was diagnosed with breast cancer in 1996 and is a board member of Breast Cancer Network Australia (BCNA). In 1974, Boyle was appointed an MBE, and the ABC selected Boyle as the Sportsperson of the Year. In 1988, Boyle was inducted into the Sport Australia Hall of Fame. The Queen's Birthday Honours of 2007 saw her appointed as a Member of the Order of Australia. In 2013 Raelene was named in Australia's Top 100 Sportswomen of All Time.
Artist Statement
Raelene is an aspiring roll model. Getting to know her was a privilege. Raelene has ran many races in her life. She won a personal race against breast cancer and wears her pink survivors badge proudly, as proudly as she wore her gold and silver medals awarded in the Commonwealth and Olympic Games. Cancer was the toughest opponent she had to deal with. Breast cancer is a close and personal thing for me, members of my family had their own journeys. I hope this painting can reach out to those suffering so they may be given inspiration to fight for their own cause and run their own race and win.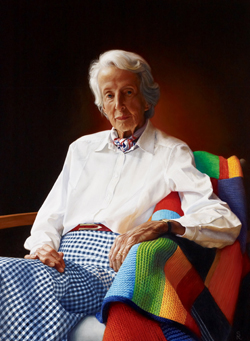 Sally Ryan, Dr Catherine Hamlin AC
Oil on Linen, 105cm x 75cm, 2013

Sally Ryan

Dr Catherine Hamlin AC MBBS FRCS FRANZCOG FRCOG Dr Hamlin and her staff at the Addis Ababa Fistula Hospital, which she co-founded with her late husband Dr Reg Hamlin, have treated more than 34,000 women for obstetric fistula in an amazing story of hope told in her 2001 book, "The Hospital On The River." She has been awarded honorary fellowships in medical associations in Australia, UK and USA. In 1995 she was awarded Australia's highest honour, Companion of the Order of Australia. Her appearance on Oprah was included in Ms Winfrey's 20 Year anthology collection. Her work was featured in the 2007 documentary, "A Walk To Beautiful" and in 2009 she was awarded the Right Livelihood Award, (The Alternate Nobel Prize). I met Dr Hamlin at a fund raising event in September 2012 and was captivated and awestruck by her life. I dug deep for boldness I didn't think I could find and asked if I could paint her. I was in a daze when she said yes and with so much demand for her time had to make the most of the little she could devote to sitting before she left again for Ethiopia. Her book, apart from describing the development of the hospital, also describes a bygone social era with all the manners and formalities that go with it. I don't think I could do her justice by painting her in anyway other than a classical realist style. The blanket she is pictured with is just one of those that is given to all the women treated at the hospital and is very much treasured by all of them. The blankets are hand made by volunteers and this one has the Ethiopian flag colours of red, yellow and green in one panel.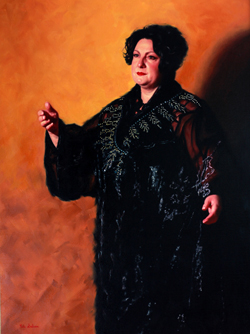 Vicki Sullivan, Encore,
Oil on Linen, 120cm x w 90cm ,2014

Vicki Sullivan

When Liane Keegan sings it brings tears to my eyes.Her voice is extremely powerful and literally gives me goosebumps.I was delighted when after returning to Australia after singing in Operas around Europe and the UK for 20 years Liane agreed to sit for a portrait. Liane and I attended Sorrento Primary School together and had a lovely time during sittings for this work reminiscing about the old Sorrento we knew.
Liane Keegan received scholarships from the Opera Foundation Australia and Shell Royal Opera House Covent Garden Scholarship,enabling her to study at the National Opera Studio London. She attended the Summer School in Graz on the American Institute of Musical Studies Scholarship and Opera Foundation Australia, and in 1997, she won a Bayreuth Bursary from the Wagner Society of Great Britain.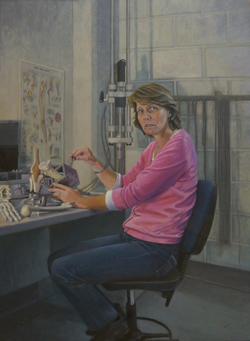 Avril Thomas, Prof Karen Reynolds
122 x 91cm,Oil on canvas, 2012

Avril Thomas

Flinders biomedical engineer Professor Karen Reynolds has been named as one of the Knowledge Nation 100, a group of visionaries, intellects, founders and game changers seen as the foremost contributors to Australia's knowledge economy. - Medical Technology Association of Australia Outstanding Achievement Award, 2014 South Australian Scientist of the Year, 2012 Named in Top 100 Most Influential Engineers in Australia, 2012, 2013 & 2015 Fellow of the Australian Academy of Technological Sciences & Engineering, 2011 Australian Professional Engineer of the Year, 2010 Australian Learning & Teaching Council Citation, 2011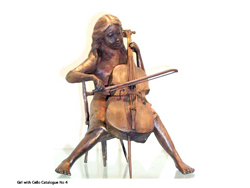 Heather Ellis, Girl with Cello
Bronze

Heather Ellis

My sculpture is self taught except for a short course in bronze casting. Ken Scarlett the noted sculpture critic wrote, "one of the few contemporary sculptors who successfully pursue realistic means of expression". Bronze is a wonderful material and although it is an extremely hard material and seemingly cold but I find that it can convey warmth and great depth in meaning whether you are depicting a sense of pathos or humour in the finished work. Many people have commented that my pieces often "ask"to be touched and to me that is one of the great things about three dimensional work. I venture to say that paintings are not very often moved once they are on the wall . Smaller sized works can fit into most family homes or gardens and give much pleasure, what is more they can be moved from time to time and thus be seen in different lights and from various aspects. Bronze comes into it own in these situations with light and shadows and even colours changing giving the viewer a fresh approach . I continually strive to capture moods and expressive forms, sometimes more towards impressionistic than perfect realism, all the time believing that my work is absolutely contemporary.