The Very Hungry Caterpillar Show


Based on Eric Carle's books
Burrinja Theatre
SAT 6 OCT
11AM, 2PM & 4.30PM
Tickets
$18 All
$15ea Group 4+
PACKAGE
3+ Burrinja Family shows $14ea

Single $3 ticketing fee applies per total transaction
The Memo, Healsville
THU 4 OCT
11AM & 2PM
5 Stars - "Beautiful, rhythmic and faithful to the author's works, The Very Hungry Caterpillar is a triumph for first time theatregoers" – Time Out Sydney

Running time 50 minutes | no interval
Ideal ages 0-7


JWR Productions Australia & Michael Sieders Presents
Created by Jonathan Rockefeller
Director Naomi Edwards
Producer Michael Sieders
Set Designer James Browne
Puppets created by Puppet Kitchen
Costume Designer Andrea Espinoza
Lighting Designer Nicholas Rayment
Composer / Sound Designer Nate Edmondson
Composer Steven Baker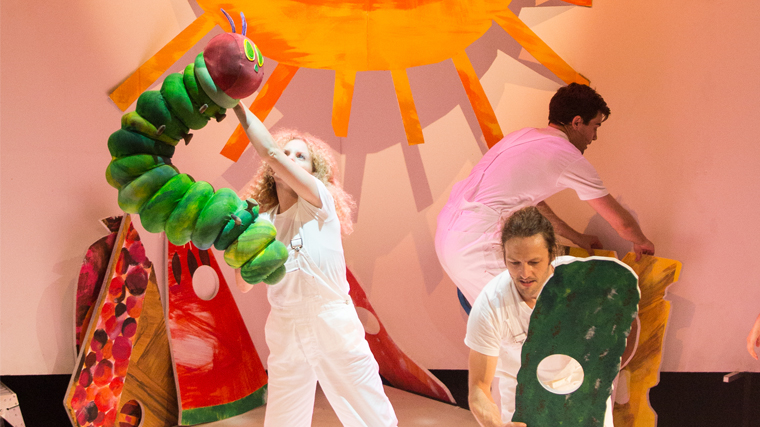 Image by Louis Dillon-Savage
"and - pop! - out of the egg came a tiny and very hungry caterpillar."
'The Very Hungry Caterpillar' emerges off the page in a masterful theatrical experience for the whole family.
Journey through four of Eric Carle's incredible stories performed live on stage in this enchanting theatre show. Featuring the 'Very Hungry Caterpillar' and other delightful characters from Eric Carle's bestselling classic tales including, 'The Artist Who Painted A Blue Horse', 'Mr. Seahorse' and 'The Very Lonely Firefly'.
Created by Jonathan Rockefeller and directed by Naomi Edwards, this magical show comes to life with 75 exquisite puppets created by New York's Puppet Kitchen.