Duet Presents The Celtic Tenors


Irish Song Book Tour 2019
Burrinja Theatre
SUN 26 MAY 5PM
Tickets
$59 Admission
$54 Friends of Burrinja*

Single $3 ticketing fee applies
per total transaction
*Friends of Burrinja price only applies
to ticket holders with a membership.
This show is
NOT
elligible
to use "the one free ticket"
benefit included in the
Friends of Burrinja Membership.
"Their sound, a thoughtful fusion of opera and trad with minimalist arrangements is instantly ear-catching. Like a box of chocolates from a stranger, it's sweet and unexpected. It's a breath of fresh air to see real talent nurtured by a big label" Sunday Independent, Ireland
130 Minutes including a 20 min interval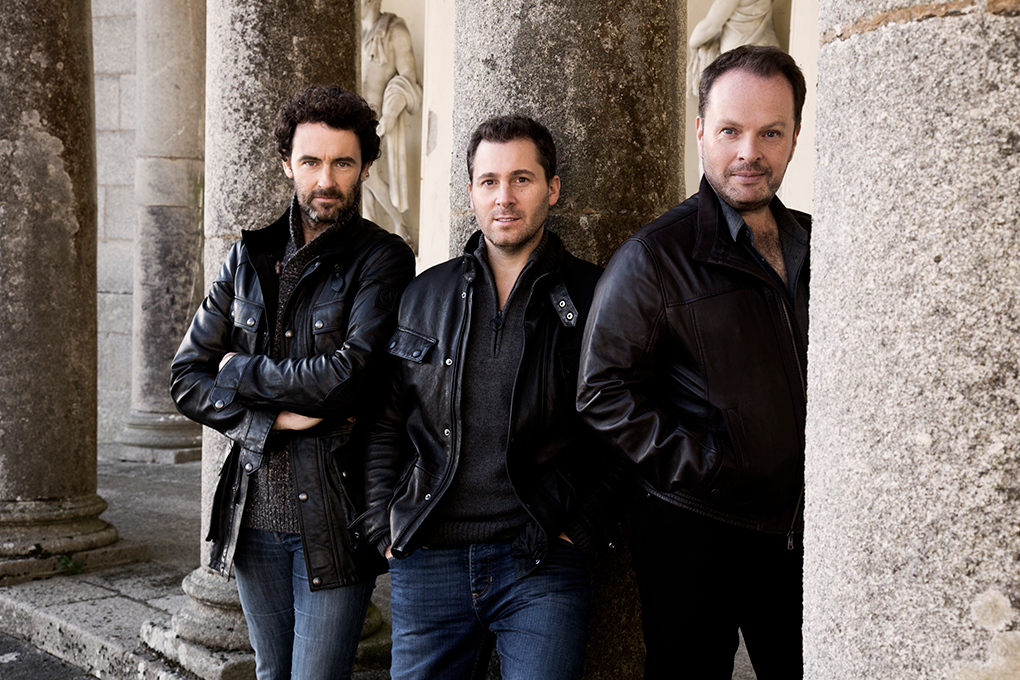 When you put together three brilliant Tenor voices with natural Irish charm, singing spine-tingling Classical, Folk, Irish, Gaelic and Pop favourites in stacked three-part harmonies, then mix them up with quick witted banter, you have THE CELTIC TENORS.

The charismatic, globe-trotting trio are the most successful classical crossover artists ever to have come out of Ireland are returning to Australia in May 2019.

They just sing songs they love, and they most certainly don't take themselves too seriously. It's all about the music, the harmonies and the fun.

Three unique solo voices, but when called upon – one tenor sound!

While each of The Celtic Tenors have been influenced by the musical traditions from their own individual parts of Ireland, Daryl Simpson, James Nelson and Matthew Gilsenan show great flexibility in melding their voices to suit the appropriate genres.

The Celtic Tenors will also perform The Irish Songbook on their 2019 Australian tour with such classics as Finnegan's Wake, In The Gloaming, Song For Ireland, Danny Boy, The Dutchman, Caledonia, You Raise Me Up and many more favourites.
With a polished international reputation and over a million album sales world-wide, The Celtic Tenors offer something truly unique. The skill, range and ability of world-class tenors combined with the personality and fun of genuine Irish performers.


About the Performers
The Celtic Tenors have established themselves over the last 2 decades as one of Ireland's busiest and most successful International acts. In 2000, following an impromptu audition at EMI (London), The Celtic Tenors were signed on the spot to an international record deal. Since then, they have gone on to work with other major labels such as Universal Records, Telarc and Concord. Heading back into studio in early 2019, will see this talented trio produce another world class album. Daryl, James and Matthew are a harmony-based trio, performing an eclectic mix of music, showing great flexibility in melding their voices to suit the appropriate classical, 'crossover', folk, Irish and pop genres. The Echo Award in Germany for Classical without Boundaries ("Klassik ohne Grenzen") was presented to the group in recognition of their success in this regard. With a busy international touring schedule, The Celtic Tenors have topped the charts in the USA, Canada, Australia, Germany, the UK and Ireland, and sold well over a million albums.

Career Fact Sheet

• Proud Ambassadors for the Make A Wish Foundation
• Co Performers at the Gallipoli Anzac 100th Anniversary Landing
• Co Performers at the Hope Gala Foundation, Dresden
• Co Performers at the RTE/ Irish 1916 Street Party Centenary Celebrations
• Easter 1916 100th Anniversary at Croke Park (Laochra Celebrations). • have appeared on TV across the USA, Canada, Europe and Australasia.
• Top Ten US Billboard, Canadian, German, UK, Australian and Irish charts.
• 2 Coast to Coast PBS TV Specials in the US (PBS Detroit, PBS Maryland).
• Triple Platinum selling artists at home in Ireland
• ECHO Award Winners in Germany for "Music Without Borders" ("Klassik ohne Grenzen").
• Headlined major Celtic festivals worldwide - Milwaukee, Dublin (Ohio), Altamont (NY), Skagen, the inaugural London St Patrick's Festival, etc.
• Orchestral / Symphony shows include the RTE and BBC Concert Orchestras, Dresden Philharmonic, Warsaw Symphony, Fujian Symphony (China), Cincinnati Pops, Vancouver Symphony, Winnipeg Symphony, Dallas Symphony, etc. • Have individually sung leading roles with opera companies, and also performed as soloists in oratorio and concerts worldwide.
• Have performed to private audiences for world leaders, including several Presidents of Ireland, President Bill Clinton, Kofi Annan (personally organised by Bono)
• Performed at international sporting events including many rugby international matches; the Toronto Grand Prix; The Abu Dhabi F1 Grand Prix; The Opening Ceremony for Dubai Tennis Open, countless matches with European Champions Munster Rugby at home in Thomond Park, Limerick, the Hong Kong Football Club 125th Anniversary Celebrations.
• Hosted the Rose of Tralee in Dubai compering the show, as well as providing the entertainment. Album History The Celtic Tenors (EMI 2000) So Strong (EMI 2001) The Irish Album (EMI 2003) We Are Not Islands (DARA Records 2006) Remember Me (Telarc US 2007) Hard Times (Compass US 2009) Remember Me (Telarc UK 2010) Feels Like Home (Concord Music, 2011) Christmas (Coney Island Music, 2013) Timeless (DECCA Australia, 2015)