Mary Tonkin | Ramble
Burrinja Gallery 01 | SEP 5 - SEP 27
An inspiring exhibition of art by a notable practitioner of en plein air painting. Ramble brings together three images from Mary Tonkin.
Landscape painter Mary Tonkin completed a Bachelor of Fine Arts (Honours) in 1995 and a Master of Fine Arts in 2002 at Monash University, where she has also lectured. Tonkin has held solo exhibitions in Melbourne and Sydney since 1999. Her work has been included in group exhibitions at the Art Gallery of New South Wales, Mornington Peninsula Regional Gallery and internationally in New York. A survey exhibition titled 'Home' was held at Burrinja Gallery in the Dandenong's in 2012. Tonkin was awarded the National Gallery of Victoria Trustee award in 1994 and 1995 and Dobell drawing prize in 2002. She was the recipient of the Elizabeth Greenshield foundation grant in 1998 and Australian post-graduate fellowship award in 2000. Tonkin's work is held by the Art Gallery of New South Wales, Sydney; the National Gallery of Victoria, Melbourne; the Mornington Peninsula Regional Gallery, VIC and several regional and tertiary institutions.
Plunge in, Kalorama 2019 is a sensuous response to the memory of swimming while Madre, Kalorama 2008 is the embracing form of a single monumental tree. Ramble, Kalorama 2017-19 is an immersive wall painting that is the culmination of ten years of working around the problem of how to convey the somewhat episodic nature of looking, the manner in which the nature of the spaces experienced unfolds over time. All three images were created en plein air in the bush.
"Like Monet, Tonkin has set out to paint the same motif again and again, in every season and every sort of daylight; she has painted the forest ravaged by bushfires, and blooming with new life." John McDonald - The Good Weekend 2019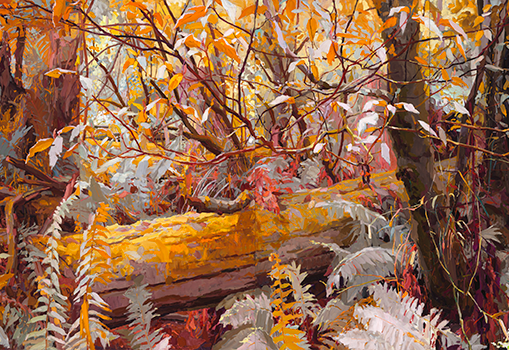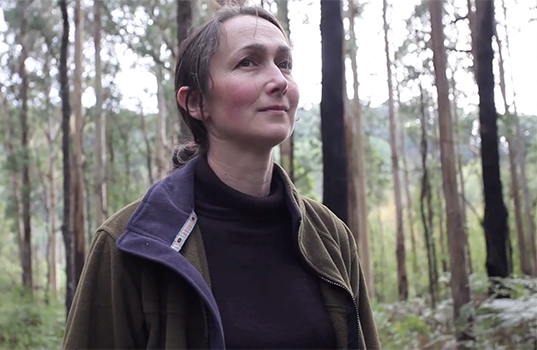 Image Credits (left to right): Mary Tonkin, Ramble, Kalorama 2017-19 (detail) oil on linen, 21 panels, 180 x 1890 cm Photographer Matthew Stanton | Mary Tonkin, still from 2013 interview by ArtDotTV