Ches Mills, Rona Green & Joy Serwylo
Burrinja Gallery | AUG 4 - SEP 3
3 distinct exhibitions from 3 Hills artists exploring the wonder of nature and humanity
Ches Mills
AUG 4 - SEP 2 | Gallery 01
As a consequence of global warming our oceans are rising and becoming warmer endangering our current shoreline and reef ecologies. The art captures the beauty, complexities and wonder of the ecosystems and to emphasises the urgent need to protect them.
Currently Ches uses acrylic, ink and gouache on either canvas or paper to create her vibrant, detailed works. Her works range in size from an impressive 1.5 square metres to more delicate 30 square cm. Her subject matter varies from the purely decorative, abstract, and landscapes, to figurative representations of her personal interpretation of the world and its issues.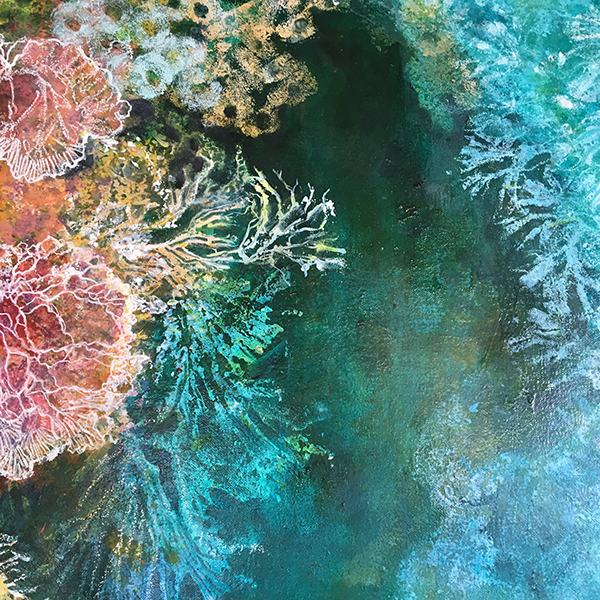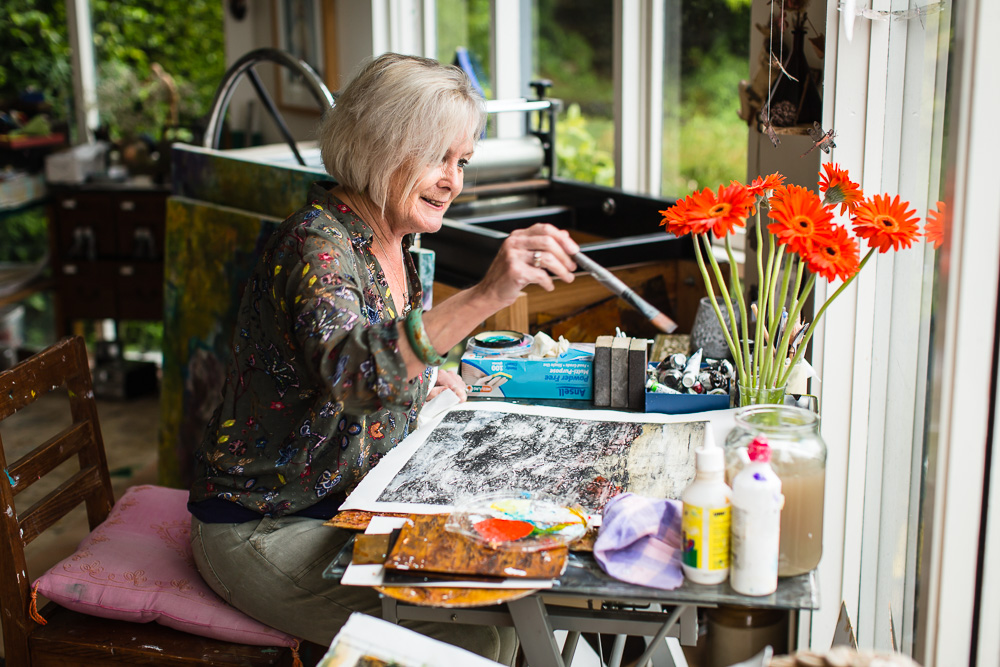 Image Credits (left to right): Ches Mills, Treasured (detail), Acrylic, ink and gouache on linen, 120 cm x 120 cm | Ches Mills in her Studio, Photographer Cathy Ronalds

Rona Green
AUG 4 - AUG 30 | Gallery 02
Some they do and some they don't and some you just can't tell
Rona Green's fanciful hand coloured linocut prints of anthropomorphised native and introduced animals explore ideas about the nature of individuality.
Specifically, her interest is in how identity is expressed via the body; physical appearance and the ways it can be altered; the skin and its potential to be the stem point for transformation - how the body can be a vehicle for story by means of transformative devices, particularly anthropomorphism and body decoration. Through the fabrication of strange and unusual hybrid creatures she champions idiosyncrasy.
Born and raised in the port city of Geelong, Australia, Rona went on to study art at La Trobe University in Bendigo (1992-1995) and Victorian College of the Arts in Melbourne (1998). She was awarded a Master of Fine Art degree from Monash University, Gippsland Centre for Art and Design in 2012.
Well known for striking pictures of peculiar characters, Rona has received many accolades such as the Geelong Print Prize, Swan Hill Print Acquisitive Award and Silk Cut Award for Linocut Prints Grand Prize. In addition her work is represented in over sixty Australian and international public collections including the National Gallery of Australia.
Rona is a fancier of Egyptian art, historical figures, science fiction, B-grade movies, TV, secret societies, tattooing traditions, subcultures and the animal kingdom. Amateur boxing is Rona's hobby and she was winner of the 2017 Victorian Masters Boxing Championships female novice lightweight title. Rona lives and works in the Dandenong Ranges, Australia.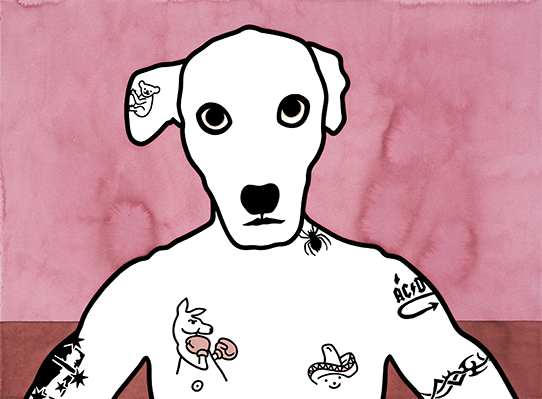 Image Credits (left to right): Rona Green, Submission Magician , hand coloured linocut, 56 cm x 76 cm | Rona Green, Photographer Bill Conroy

Joy Serwylo
AUG 4 - AUG 30 | Gallery 03
Joy draws and paints and collages and constructs books and dioramas, trying to document the demise of our beautiful world while hoping there is still time to rescue it.
Is it the artist's job to document the demise of the Anthropocene, or to change it? Either way, Joy Serwylo feels completely overwhelmed and under equipped….. to tackle the task, but plods on regardless, burning books and repurposing them to hopefully say something about the crazy world we live in.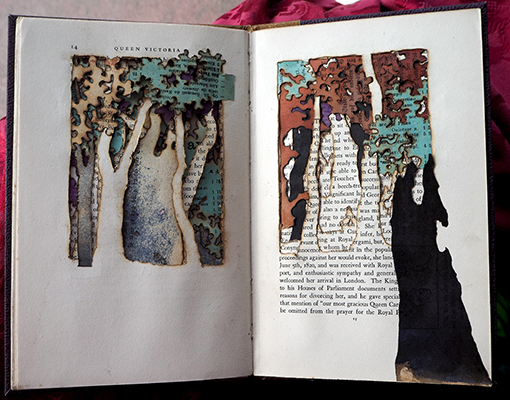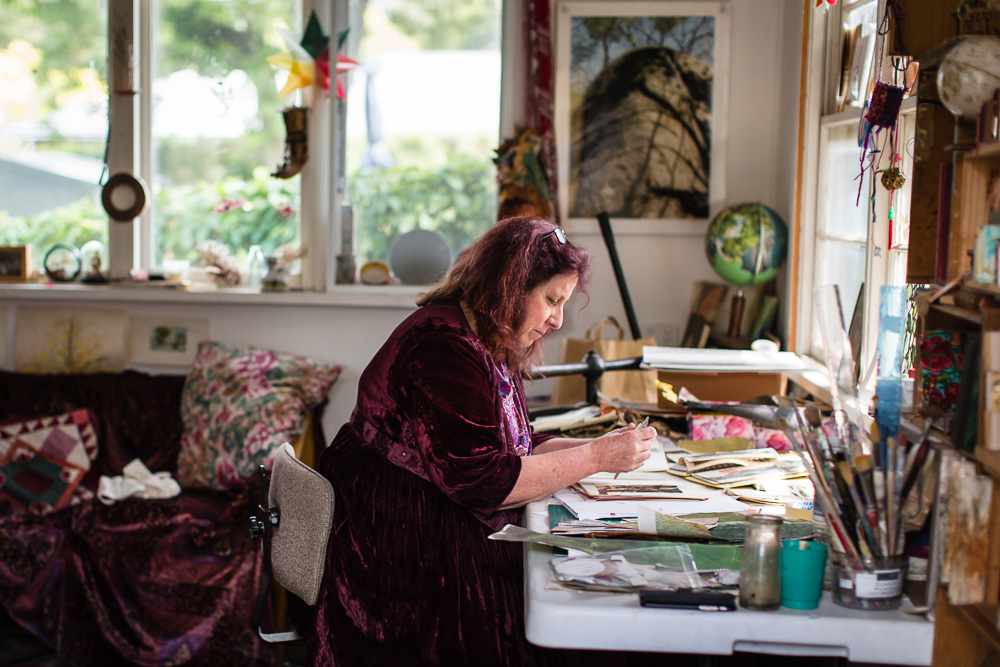 Image Credits (left to right): Joy Serwylo, Untitled burnt book, Deconstructed, burnt and rebound book, 20 cm X 14 cm | Joy Serwylo in her Studio, Photographer Cathy Ronalds