---
Art - Upcoming exhibitions
Burrinja Gallery 2014 Visual Arts Program

It is with great excitement that we present our Burrinja Gallery Visual Arts Program for 2014!
Burrinja Gallery will host a truly inspiring and diverse program of Indigenous and contemporary exhibitions in 2014 featuring works across a range of mediums, including Paintings, Photography and New Media. These are exhibitions that provide insight to fascinating stories from different parts of our vast land and beyond, with many divergent perspectives and imaginings of those landscapes and events. They are narratives that range from the fictional to the factual, the satirical and the surreal, portrayed in imagery that has the power to captivate.
Date
28 March - 22 June

Venue
Burrinja Gallery
Rod Moss: Whitegate - Where Art and Life Collide

Rod Moss had been a resident of Alice Springs since 1984. His paintings are a result of his unique and close relationship with the Arrente community of Whitegate, one of several town camps on the outskirts of town. In his carefully constructed and referenced paintings he presents the Whitegate families in everyday life situations, with strong connectedness through country and kinship.
The exhibition brings together the photography Rod bases his paintings on and the stories behind them. They create an intriguing and intimate portrait of the families of Whitegate amongst the on-going struggle with health issues, alcoholism and violence.
Rod is the author of A Thousand Cuts, published in 2013 and The Hard Light of Day which won the NT Book Award and the Prime Minister's Award for Non-fiction in 2011. Rod Moss is represented by Anna Pappas Gallery in Melbourne and Fireworks Gallery in Brisbane.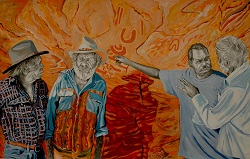 Date
28 March - 22 June

Venue
Burrinja Inner Gallery
Ronnie Sexton: Woodhenge

The Woodhenge Carvings comprise of nine wooden sculptures which have taken Irish woodcarver Ronnie Sexton six years to complete.  These extraordinary creations range from 3 to 4 metres in height. Carved from Cedar wood and adorned with hundreds of crystals, stones, rocks and 24 carat gold-leaf gilding, each carries intricate and detailed symbols of cultures from across the planet.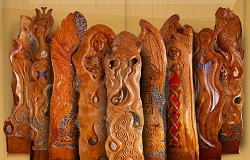 Date
23 - 29 June 2014

Venue
Burrinja Gallery
The Best of Belgrave Lantern Parade

The annual Belgrave Lantern Parade is a highlight in the local event calendar, with thousands of hills residents marching their lanterns, small and big, up and down the main street.  For those who are not able to attend and those who want to have a closer look at the fantastic creations this exhibition will offer a delightful display. 

For one week only!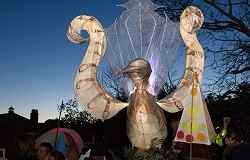 Date
4 July - 31 August

Venue
Burrinja Gallery
DLux Media and University of Sydney
Striking Contrasts

This screen based touring exhibition features ten contemporary Australian video artists, including Angelica Mesiti, John Conomos, Grant Stevens and Deborah Kelly.
Reflecting on two distinctive and opposite visions of the Australian cultural landscape, that of the vast centre to the built up city peripheries, the exhibition explores these contrasts through various techniques such as documentary film, narrative  sequence and the use of found footage.
Curated by dLux MediaArts in association with Geoffrey Weary, Sydney College of the Arts, University of Sydney.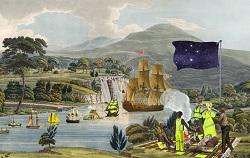 Date
4 July - 31 August

Venue
Burrinja Inner Gallery
She'll be right, mate
An Indigenous History in Australian Cartoons

Drawn from the extensive archive of the Australian Cartoon Museum this exhibition chronicles issues of Indigenous affairs in Australian society, sports and politics in the last 30 years.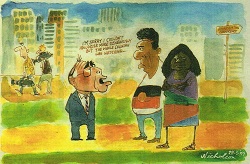 Date
5 September - 16 November

Venue
Burrinja Gallery
Arlpwe Artists
Pictorial Letter from Arlpwe at Ali Curung

Artists from Ali Curung visit Burrinja for a week of demonstrations and cultural education. Now the second year in a row, Burrinja is building a strong connection with the community near Tennant Creek in the Northern Territory. Local schools again get an opportunity to engage with Central Desert artists.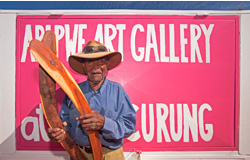 Date
22 November - 15 February 2015

Venue
Burrinja Inner Gallery
Cicada Press: Gamarada

Cicada Press is a research group within the School of Art at the College of Fine Arts (COFA), University of NSW. It functions as an educationally focused custom printing workshop where artists of national reputation are invited to produce a body of work with the support of Cicada Press staff and students.
For the past six years Cicada Press has worked closely with a number of Aboriginal artists from NSW but also other parts of the country building Aboriginal print portfolios and providing them with new skills to take into their future practice.
Recent visiting artists include Vernon Ah Kee, Reko Rennie, Laurel Nannup, Jason Wing who will be featured in the exhibition.
Curated by Tess Alass, Associate Lecturer, School of Art History and Art Education at the College of Fine Arts (COFA), University of NSW.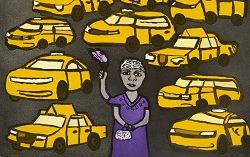 Date
22 November - 15 February 2015

Venue
Burrinja Gallery
Myths and Legends of West Arnhem Land: Nganjmirra Family Drawings

Rare works on paper by members of the Nganjmirra family, including Bobby, Alex, Wesley, Peterson, Ralph and Wesley tell traditional stories of creation, law and life in Western Arnhem Land.
Selected from the McLeod Gift Collection.