---
Art - Upcoming exhibitions
FIRE SEASON ANNOUNCEMENT
Burrinja is located in a high fire danger region, and on extreme fire danger days we may cancel events at short notice for safety reasons. On declared Code Red days Burrinja will be closed and all events cancelled.
We encourage attendees to contact us on 03 9754 8723 or check our Facebook on the day of the event to ensure the event will be going ahead.
Dates
15 March - 13 April
Venue
Jarmbi Gallery
VCE Creative Showcase 2014: On the Edge
The VCE Creative Showcase is an exhibition which celebrates the talents of our best and brightest VCE art students from across the Yarra Ranges Council area, providing them with an opportunity to present their work in a professional context as part of a high profile event.
The exhibition is challenging, insightful, beautiful and moving. It offers audiences a unique and creative perspective on life through the eyes of the next generation, often exploring a wide range of media from sculpture to photography, stop motion animation and ceramics.

EXHIBITION OPENING: Friday 14 March 7pm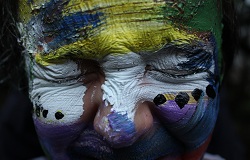 Date
28 March - 22 June

Venue
Burrinja Gallery
Rod Moss: Whitegate - Where Art and Life Collide

Rod Moss has been a resident of Alice Springs since 1984. His paintings are a result of his unique and close relationship with the Arrente community of Whitegate, one of several town camps on the outskirts of Alice Springs. In his carefully constructed and referenced paintings he presents the Whitegate families in everyday life situations, with strong connectedness through country and kinship.
Through additional audio stories told by the artist, the exhibition brings to the visitor's attention the stories behind the carefully constructed paintings. They create an intriguing and intimate portrait of the families of Whitegate and describe the on-going struggle of the Whitegate residents with health issues, alcoholism and violence.
Rod Moss is the author of the recently published book A Thousand Cuts (2013) and The Hard Light of Day which in 2011 won the NT Book Award and the Prime Minister's Award for Non-fiction.
Rod Moss is represented by Anna Pappas Gallery in Melbourne and Fireworks Gallery in Brisbane.

Official Opening: Sunday 30 March at 2:00pm,
To be opened by Dr. Phillip Batty, Senior Curator, Anthropology, Museum Victoria
Artist Talk and Book Signing: Sunday 6 April at 2-3.30pm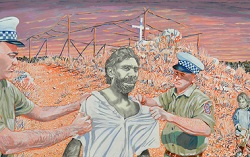 Date
28 March - 22 June

Venue
Burrinja Inner Gallery
Ronnie Sexton: Woodhenge

The Woodhenge Carvings comprise of nine wooden sculptures which have taken Irish woodcarver Ronnie Sexton six years to complete.  These extraordinary creations range from 3 to 4 metres in height. Carved from Cedar wood and adorned with hundreds of crystals, stones, rocks and 24 carat gold-leaf gilding, each carries intricate and detailed symbols of cultures from across the planet.

Official Opening: Saturday 29 March at 3pm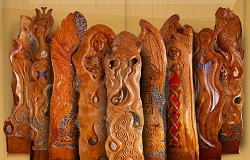 Dates
22 April - 18 May
Venue
Jarmbi Gallery
Open Studios Exhibition: Balance 
The Dandenong Ranges Open Studios Weekend features an eclectic range of artists and media against the backdrop of one of Melbourne's most beautiful and popular tourism destinations.
 The Open Studios weekend, featuring 32 local hills studio locations, is one of the most anticipated events for the region's cultural calendar, attracting art minded visitors and tourists since 2004. Featuring Hills artists working across a range of mediums – as varied as painters, potters, wood carvers, digital artists and textile artists – the Dandenong Ranges Open Studios program provides a unique insight into our artists' work environments as well as their art.
Coinciding with the Open Studios weekend is the annual Open Studios Exhibition at Burrinja Gallery. This year's group exhibition theme of 'Balance' was chosen by the artists and is sure to generate some new and interesting work. This exhibition is a unique opportunity to see and experience work from each of the artists in one gallery, making Burrinja a great place to start the Open Studios weekend tour.

EXHIBITION OPENING: Thursday 17 April
For more info on Open Studios visit www.openstudios.org.au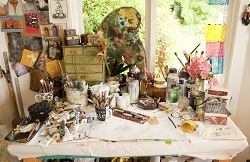 Date
23 - 29 June 2014

Venue
Burrinja Gallery
The Best of Belgrave Lantern Parade

The annual Belgrave Lantern Parade is a highlight in the local event calendar, with thousands of hills residents marching their lanterns, small and big, up and down the main street.  For those who are not able to attend and those who want to have a closer look at the fantastic creations this exhibition will offer a delightful display. 

For one week only!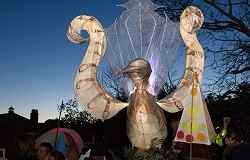 Date
4 July - 31 August

Venue
Burrinja Gallery
DLux Media and University of Sydney
Striking Contrasts

This screen based touring exhibition features ten contemporary Australian video artists, including Angelica Mesiti, John Conomos, Grant Stevens and Deborah Kelly.
Reflecting on two distinctive and opposite visions of the Australian cultural landscape, that of the vast centre to the built up city peripheries, the exhibition explores these contrasts through various techniques such as documentary film, narrative  sequence and the use of found footage.
Curated by dLux MediaArts in association with Geoffrey Weary, Sydney College of the Arts, University of Sydney.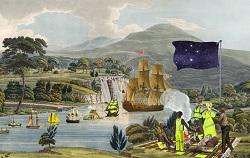 ---